There may not be one popular dessert that is better than a chocolate chip cookie. There are so many different recipes but they all seem to be delicious.
There's all different types of chocolate chip cookies, you can think of soft ones, thick ones, maybe even thin and crispy ones. Maybe you've made them with your grandparents growing up or not your parent and you're making them for your kids.
You're going to love the mix of chocolate chip cookie recipes that we found for you.?
Article Image From: HostTheToast
1. The Best Chewy Cafe-Style Chocolate Chip Cookie
These chocolate chip cookies are so chewy and delicious.  Every time I make these for friends and family – they ask me for the recipe!
From: HostTheToast
2. Super Soft Chocolate Chip Cookies
These super soft cooked are so chewy and yummy.  Dip them in milk or just savor the rich gooey chocolate center.
From: BakedByRachel
3. Perfect Chocolate Chip Cookies
In our opinion, we think chocolate chip cookies should have a little crisp to them.  We aren't saying to burn them, we just like a little bite on the edges and softness in the center.
From: TastesBetterFromScratch
4. Thick Chocolate Chip Cookies
These cookies are soft and gooey on the inside.  But what makes them the best are the size of them.  So much chocolate chip cookie to eat!
From: HouseOfYumm
5. The Best Homemade Chocolate Chip Cookies
Make some great homemade chocolate chip cookies with this recipe.  They're so soft and sweet.  A favorite for everyone who's tried them.
From: ErrensKitchen
6. Best Ever Thin and Crispy Chocolate Chip Cookies
These thin and crispy chocolate chip cookies are made like most.  The difference is that with these cookies, you want to make sure they're thinner than normal.  That helps them get crispy!
From: ModernHoney
7. Ultimate Chewy Chocolate Chip Cookies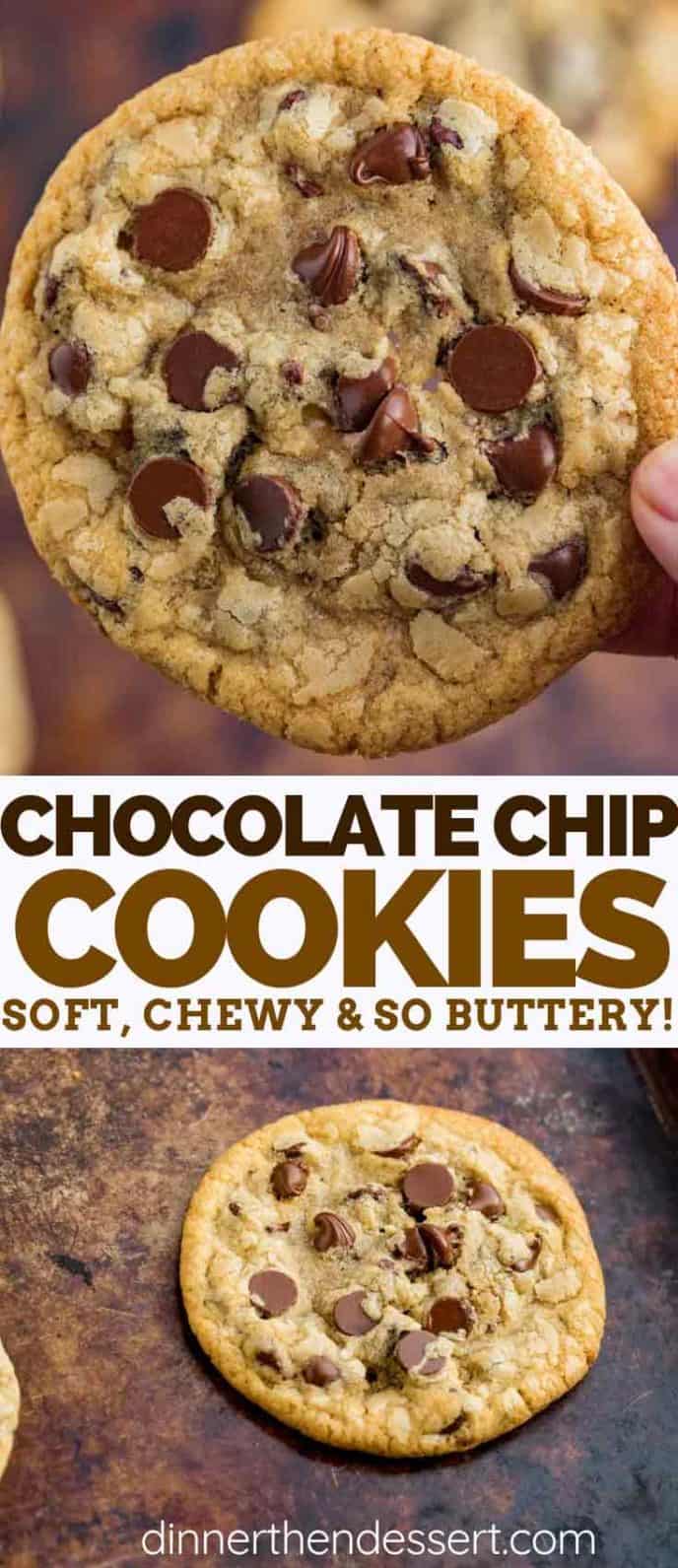 These chocolate chip cookies are the classic recipe you're used to.  They come together in under 20 minutes and they use basic ingredients which makes it simple and easy.
From: DinnerThenDessert
8. Bakery Style Chocolate Chip Cookies
These cookies taste like you just picked them up from your favorite bakery.  They are sweet and yummy.  Tons of chocolate chips all packed in a soft and chewy cookie.
From: StuckOnSweet
9. OMG Best Chocolate Chip Cookies Ever
Why are these cookies called OMG chocolate chip cookies?  It's simple – when you take your first bite, the delicious flavor is going to make you scream OMG!
From: HomeFamilyRecipes
10. The Best Chocolate Chip Cookies on Earth
You'll want to make these a few times a month as a simple and super tasty cookie dessert.  So perfect in every way.  We just can't say enough good things about these cookies!
From: OneHundredDollarsaMonth
11. Best Soft Chocolate Chip Cookies
These cookies are soft, thick, bricks of chocolate chunks and buttery dough baked into a heavy, milk-loving cookie that is my most favorite chocolate chip cookie of all time.
The bricks of chocolate chunks pair so well with these cookies.  They're soft, thick, and the dough is buttery smooth.  Dunk them in a nice tall glass of cold milk!
From: PinchofYum
12. Joanna Gaines' Chocolate Chip Cookies
Joanna Gaines' passed on this recipe to her.  We are glad he did because now that she's shared how to make these chocolate chip cookies – they're now our favorite!
From: TheKitchn