These Halloween cake pop recipes are sure to be a hit. Make your next party spooky and sweet at the same time!
So Halloween is coming closer and you don't want to bring candy to your next party.  Try these 14 Halloween cake pop recipes that we've gathered from all over the internet.  They are a perfect treat for you that will make all the other guests impressed.
These can vary from baked to non baked cake pops.  Scary cake pops all the way to cute cake pops – it really is endless for the possibilities.   How cool will it be to bring perfectly decorated jack-o-lantern cake pops or maybe ones that look like a black cat or a mummy?!
Make sure you share these with friends so that they can make their own with their family.  These Halloween cake pop recipes are perfect for your kids to bring to their school when it's time for a Halloween party.
Try these recipes and leave a comment on which one you ended up baking and what the result was!
Cover photo from: artandthekitchen.com
1.  Peanut Butter Fudge Filled Black Cat Cake Pops
You won't need normal peanut butter cups after you try these cake pops. They really do look like cats and are filled with peanut butter fudge!
Get the recipe: hungryhappenings.com
2.  No Bake Cookies & Cream Mummy Cake Pops
These mummy cake pops are so cute. They have a delicious cookies and cream flavor. Watch these fly off the plate at your Halloween party!
Get the recipe:  lifewiththecrustcutoff.com
3.  Jack-O-Lantern Cake Pops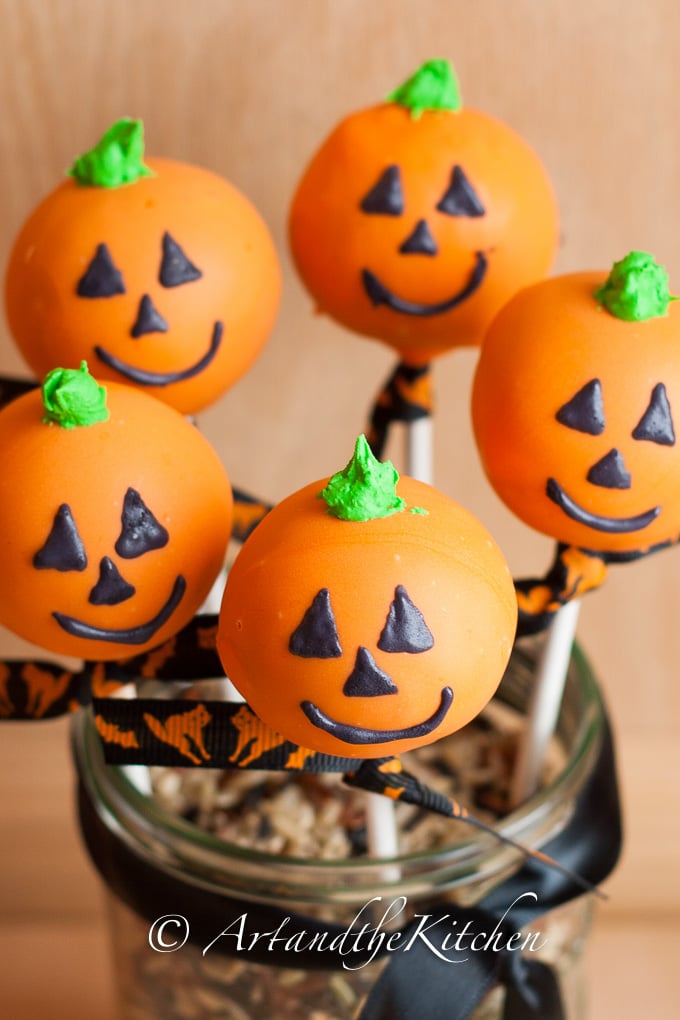 These jack o lantern cake pops are a cute treat for Halloween guests. Homemade treats are much more fun to hand out to the kids who trick or treat at your house!
Get the recipe:  artandthekitchen.com
4.  Easy Halloween Cake Pop
Follow the recipe for an easy cake pop recipe that you can make for Halloween. The black and orange colors are perfect and the taste is soooo yummy!
Get the recipe:  hellolittlehome.com
5.  Jack Skellington Cake Pops
If you're a fan of the Nightmare Before Christmas, then you'll love these cake pops. Read this tutorial on how to make Jack Skellington cake pops for Halloween!
Get the recipe:  pintsizedbaker.com
6.  Flying Bat Cake Pops
These cake pops really do look like flying bats. Let the cake pops get frosted white so it's like the bats are flying over the moon!
Get the recipe:  iscreamforbuttercream.com
7.  Trick-Or-Treat Ghost Cake Pops
Using a crumbled cake mix, some frosting, and candy coating. These trick or treat ghost cake pops are fun to hand out to trick or treaters. Perfectly easy to make ahead of your Halloween celebration!
Get the recipe:  thecraftingfoodie.com
8.  Pumpkin Cake Pops [+ Video]
Watch the recipe video for an easy and simple way to make these cake pops. They'll look just like a pumpkin and the crumbled cake mixture will hell make a moist cake pop for Halloween!
Get the recipe:  whatshouldimakefor.com
9.  Googly Eyed Cake Pops
This is the perfect dessert for your Halloween party. The googly eyed cake pops are a delicious and goofy treat for you to serve your guests!
Get the recipe:  hungryhappenings.com
10.  Mummy Cake Pops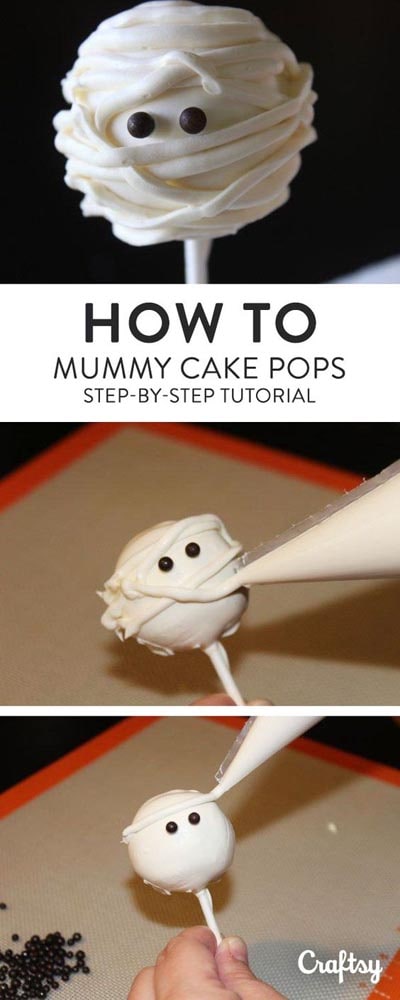 Halloween is on its way and it's time to start making some treats. These mummy cake pops are easy to make. Follow the instructions so you can make these cute treats for your friends and family!
Get the recipe:  mybluprint.com
11.  Vampire Cake Pops
Vampire cake pops that also come with a cape? You can use a fruit roll up to make that possible. Try these at your next Halloween event!
Get the recipe:  momsandmunchkins.ca
12.  Witches Cauldron Cake Pops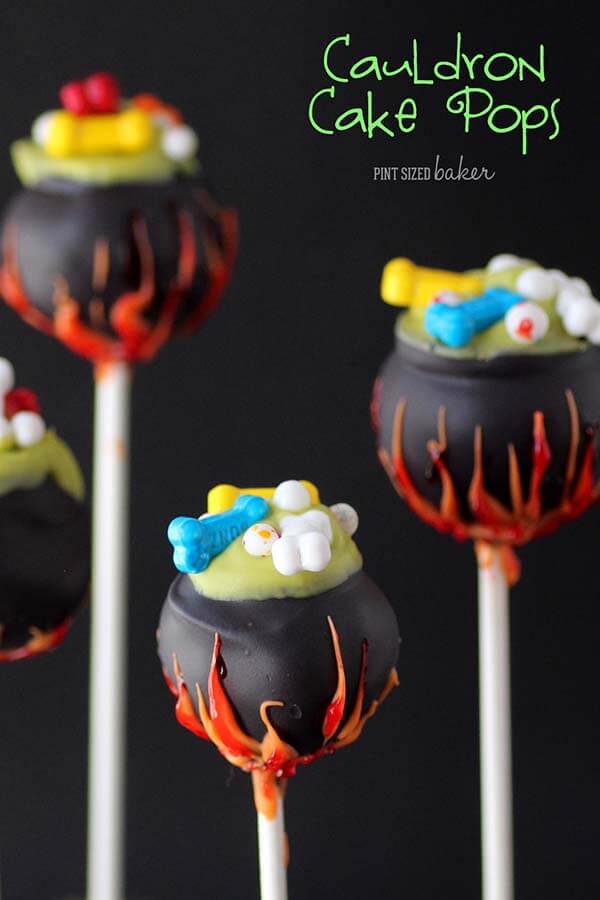 These witches cauldron cake pops are a little more complex but it's so worth it to try. People will be so impressed and they'll ask you how you made them!
Get the recipe:  pintsizedbaker.com
13.  Eyeball Cake Pops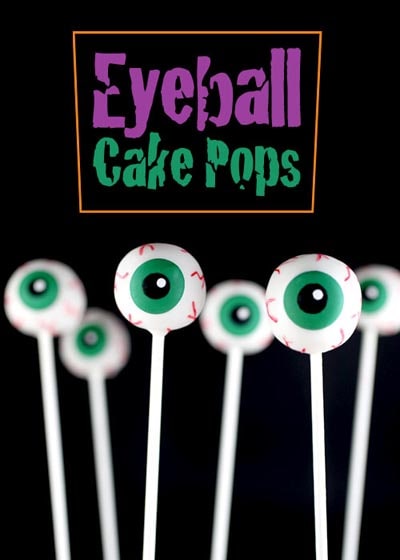 You won't believe what you're seeing when you make these eye ball cake pops. Yes that was a bad attempt at a joke but we couldn't resist. Make these treats for the next Halloween party you attend!
Get the recipe:  bakerella.com
14.  "Spooky" Monster Cake Pop Balls

These cake pops are gluten and dairy free. The monsters aren't scary but they are cute! A sweet treat for the scariest time of the year.
Get the recipe:  theloopywhisk.com