These healthy frittata recipes are sure to be a big hit at breakfast time. Give them a shot and find your new favorite!
You've been looking for a filling and healthy breakfast but you haven't found the right meal yet.  You have to try out these healthy frittata recipes that we've gathered and shared with you.
The frittata is a great breakfast meal because it's usually filling based on the eggs, vegetables, potatoes, or anything else you throw in there.   Think of an omelet but much heartier and more filling.
Typically when you get a frittata it's going to be at your local diner, and it may not always be the healthiest option.  This is because they will just make it how most diner customers want it, and health isn't a main concern.   That's why these recipes are going to be a great alternative if you want a healthy and delicious frittata in the morning.
So take a look and see what catches your eye – from there it's all trial and error to see what is going to become your new breakfast choice in the morning!
Photo cover credit:  asaucykitchen.com
1.  Bacon, Egg, and Cheese Frittata with Spiralized Potatoes
This frittata recipe is a perfect brunch idea or a nice meal to start the day for breakfast.  It's filled with bacon,egg, and cheese and finished off with some spiralized potatoes.  A great hearty way to start the day!
From:  inspiralized.com
2.  Greek Spinach, Feta, and Potato Waggle Frittata with Tzatziki
This frittata will make you feel like you're eating in Greece.  That's because the greek spinach, feta cheese, and the tzatziki sauce.  It's a super quick and tasty lunch idea!
From:  supergoldenbakes.com
3.  Potato Frittata with Bacon and Feta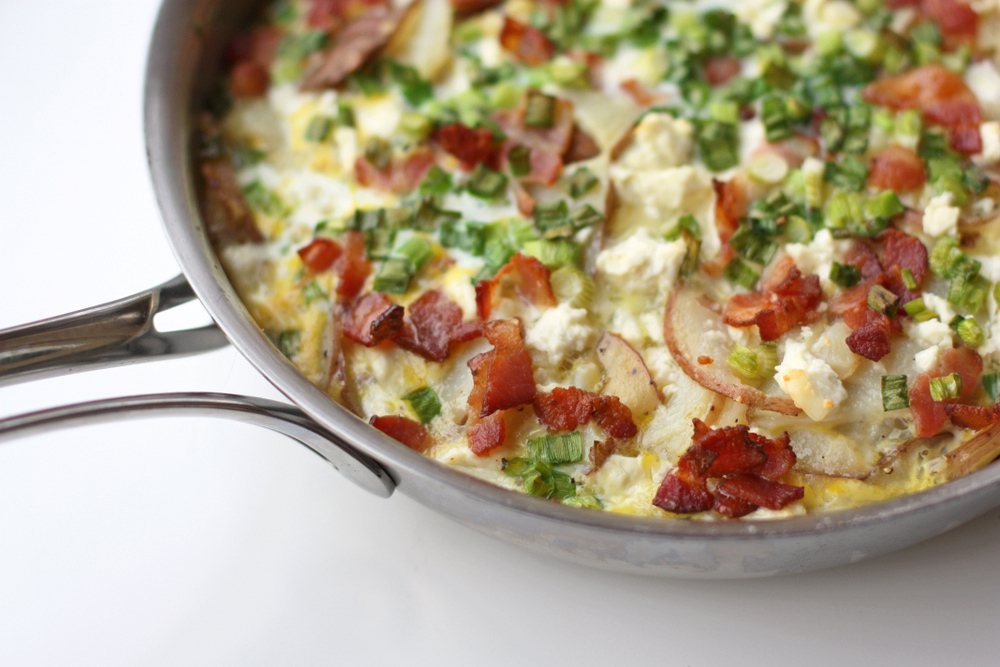 This bacon and potato frittata is different than others. There isn't as much egg in it which means you have a nice ratio of ingredients.  Add in the feta cheese and you got a winner!
From:  everyday-reading.com
4.  Kale and Tomato Frittata
Frittatas are nice to make because they're typically done in only about 10 minutes.  You can mix and match t he ingredients to your liking.  If you don't want the kale that's in this recipe, you can replace it with spinach instead!
From: averiecooks.com
5.  Easy Baked Frittata Recipe with Spinach (Gluten-Free)
This easy frittata is baked and has spinach in it.  It's a great breakfast idea or a fantastic brunch dish that you can serve your guests.  This is gluten free and ready in under an hour!
From: thebutterhalf.com
6.  Summer Vegetable and Bone Marrow Frittata
You typically don't use bone marrow often, but this frittata is different.  It blends goat cheese and egg, and the bone marrow will add a rich flavor.  It's a unique dish that you should try!
From:  ahouseinthehills.com
7.  Broccoli and Sweet Potato Frittata With Thyme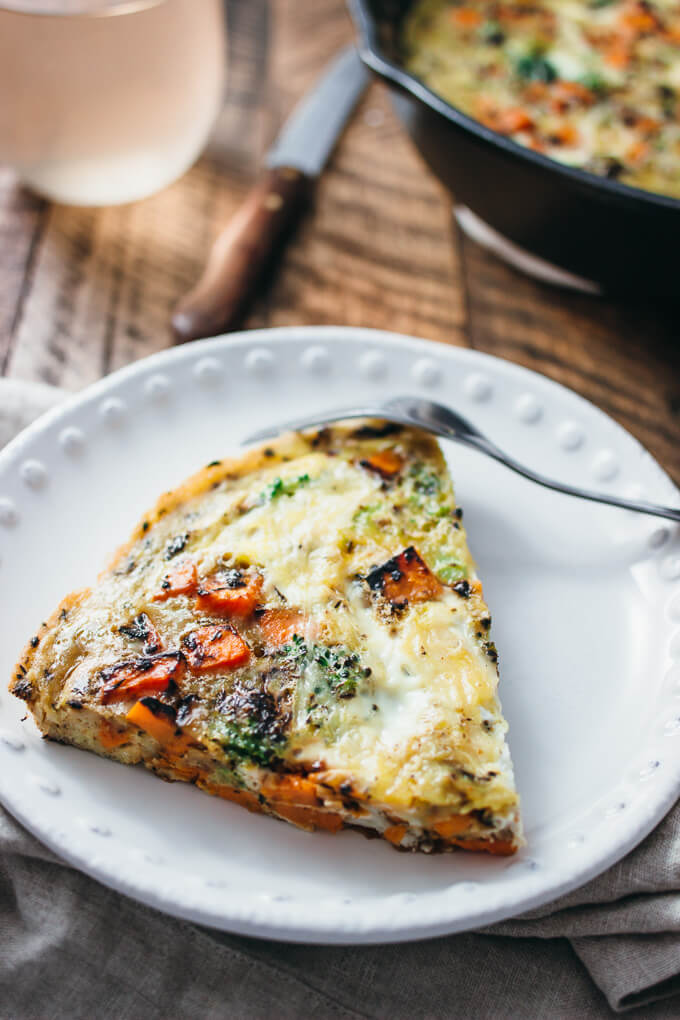 This frittata is a healthy breakfast option that you can make in one pan.  You start it on the stove and finish it in the oven.  This works great with all kinds of vegetables if you're looking to get rid of some leftover veggies!
From:  savorytooth.com
8.  Pressure Cooker Smoked Salmon Frittata
You can make this smoked salmon frittata in the pressure cooker.  It'll only take minutes to throw everything together.  Serve it up warm or cold, and it can be ate for breakfast, lunch, or even dinner.
From:  supergoldenbakes.com
9.  Potato and Asparagus Frittata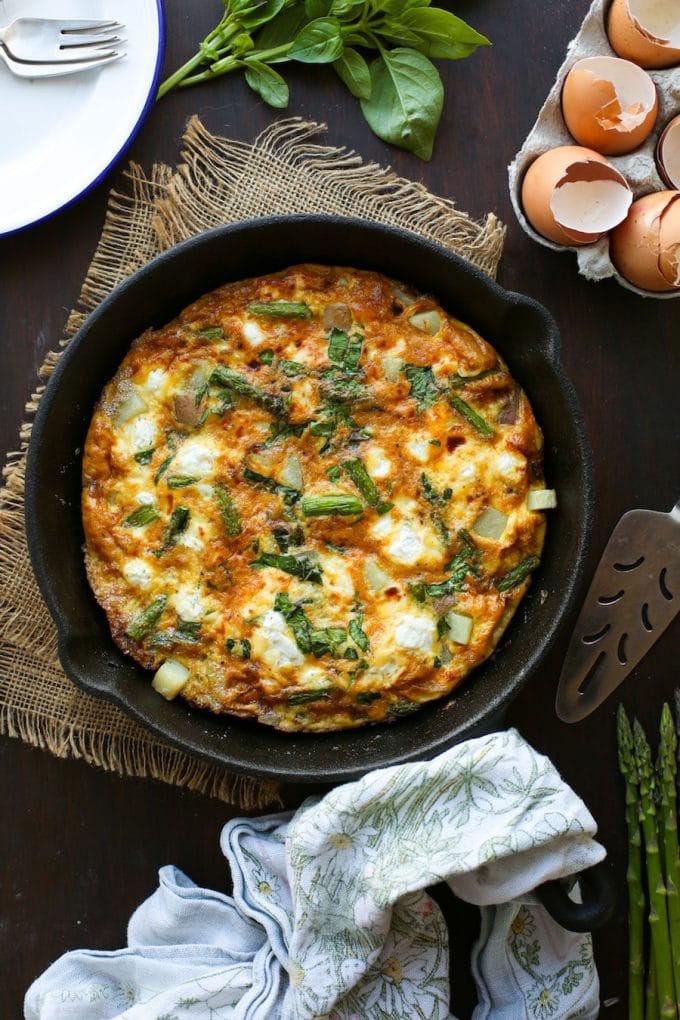 This basil potato and asparagus frittata is perfect for breakfast or brunch.  It's gluten free and vegetarian as well.  Your family is going to love this dish!
From:  asaucykitchen.com
10.  Spring Veggie Frittata with Queso and Arugula
This frittata is filled with roasted veggies and queso cheese.  Not to mention the crispy prosciutto which takes it to the next level!
From:  howsweeteats.com
11.  Cheesy Italian Red Pepper Frittata Muffins
These egg frittata muffins are light and fluffy.  Pack it up with Italian peppers and cheese and it'll be ready in 30 minutes.  Bake them in a muffin pan and you'll have a easy and quick breakfast.
From:  delightfulmomfood.com
12.  Strawberry Almond Sweet Frittata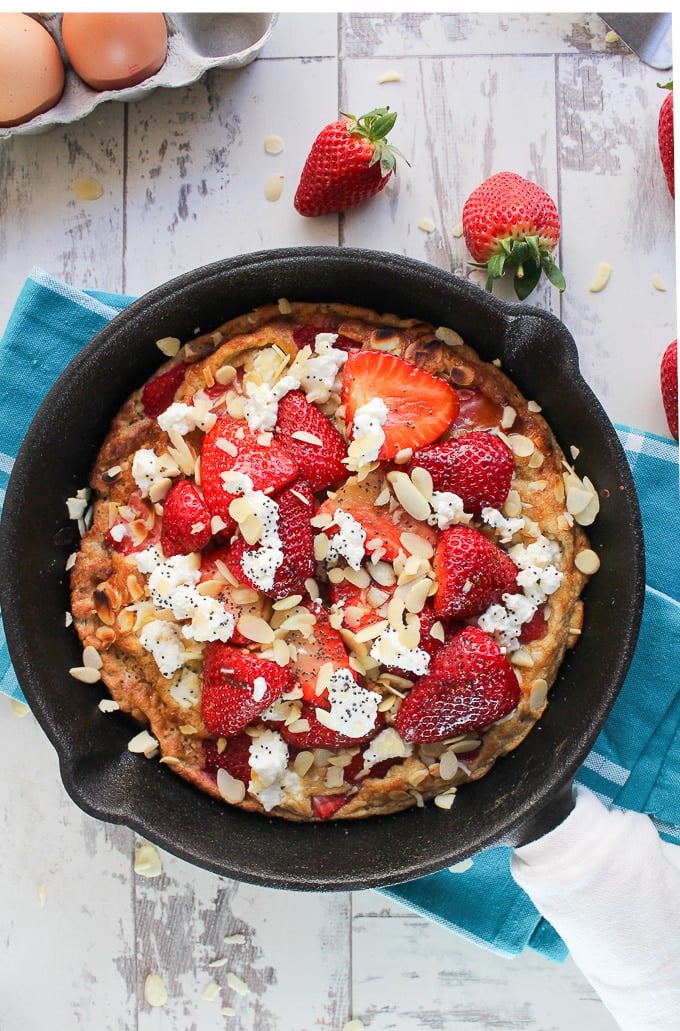 This frittata is sweet and savory.  The strawberry and almonds add a great texture to it.  Make this for breakfast, brunch, or even a simple dessert!
From:  asaucykitchen.com
13.  Chickpea Flour Frittata
What makes this fritatta so good is that you can take left over veggies from the fridge and throw them inside.  If you're short on time after a long day at work, this is a great healthy meal to try.
From:  freshtart.com
14.  Veggie Stove-Top Frittata with Sweet Corn, Tomatoes & Zucchini
This veggie frittata is a great idea for a lazy weekend brunch meal.  Maybe you want a grab and go breakfast idea for the week – this could be it.  The leftovers are so good for lunch or combine it with a big salad for a weeknight meal.
From:  alwaysorderdessert.com