These loaded nacho recipes are going to be a huge hit for your next party or tailgate event. Choose from the 15 that we've found that include chicken, pork, fish, and more!
These loaded nacho recipes are going to be a huge hit for your family or the next party you're going to attend.  You've had them at the bar or your favorite restaurant, and you've always wanted a delicious recipe to make yourself.
So because of that, there's nothing better than loaded nachos and the multiple ways to create them.   It doesn't matter if you feel like chicken, pork, shrimp, or maybe something else – they are going to be delicious no matter what.
Check out these 15 over the top loaded nacho recipes and find the one that you like the best!
1.  Ultimate Nachos
The ultimate nachos: tacos ground beef, served with fresh pico de gallo and drizzled with chipotle cream. We haven't even talked about the whole toppings shebang yet. A truly delicious recipe that you should try.
Get the recipe here:  TheUnlikelyBaker
2.  Nachos Deluxe
This fast and easy Nachos Deluxe recipe can be eaten as lunch or dinner, or served as a snack! Great for game day snacking, movie time, or anytime. This delicious treat is ready in under 20 minutes, and is oh so good!
Get the recipe here: AnnsEntitledLife
3.  Loaded Steak Nachos
Cheesy nachos loaded with marinated steaks, refried beans, guacamole, & pico de gallo. This is exactly what you need for your Super Bowl party or just for dinner!
Get the recipe here:  TheMissingLokness
4.  Skillet Steak Fajita Nachos
Skillet steak fajita nachos are a must make for tailgating, the Super Bowl, or anytime! These delicious steak nachos are loaded with peppers, onion, cheese, and marinated steak. Possibly the best nachos ever!
Get the recipe here:  TheCookieRookie
5.  Pulled Pork Nachos
These Pulled Pork Nachos are festive, tasty, AND really easy to make. In fact, if you start with pre-made pulled pork, you can have this ready in under 10 minutes.  A perfect option for your next football or sports party!
Get the recipe here:  FamilyFreshMeals
6.  Tipsy Campfire Nachos
So you're going camping this weekend and you want to do something different and s'mores shouldn't be the only snack around the campfire this summer! Treat your friends to this fun and unexpected camp treat! Tipsy Campfire Nachos are the perfect excuse to crack open another beer and relax around the fire in the great outdoors.
Get the recipe here:  PeppersandPennies
7.  Greek Nachos
If you are a fan of Greek food then you will be smitten by this recipe. Instead of tortilla chips, this has pita chips as a base. Building up from there, it's cumin spiced lamb, feta tzatziki sauce and heaps of fresh veggies & zesty olives.
Get the recipe here:  MarlaMeridith
8.  Loaded Mexican Nachos with Chicken
These LOADED Mexican nachos are super savory and hearty with shredded chicken, diced tomatoes, a splash of corn, sliced jalapeño, and plenty of shredded cheese. This is the perfect recipe for making baked nachos that are a crowd favorite.
Get the recipe here:  SavoryTooth
9.  BBQ Chicken Sweet Potato Nachos
BBQ Chicken Sweet Potato Nachos are a hassle-free appetizer or entree that's perfect for game day.. or any day! Sliced sweet potatoes are roasted to perfection, loaded with juicy barbecue chicken and all the fixings, and finished with a melty layer of cheese.
Get the recipe here:  ByteSizedNutrition
10.  Buffalo Chicken Nachos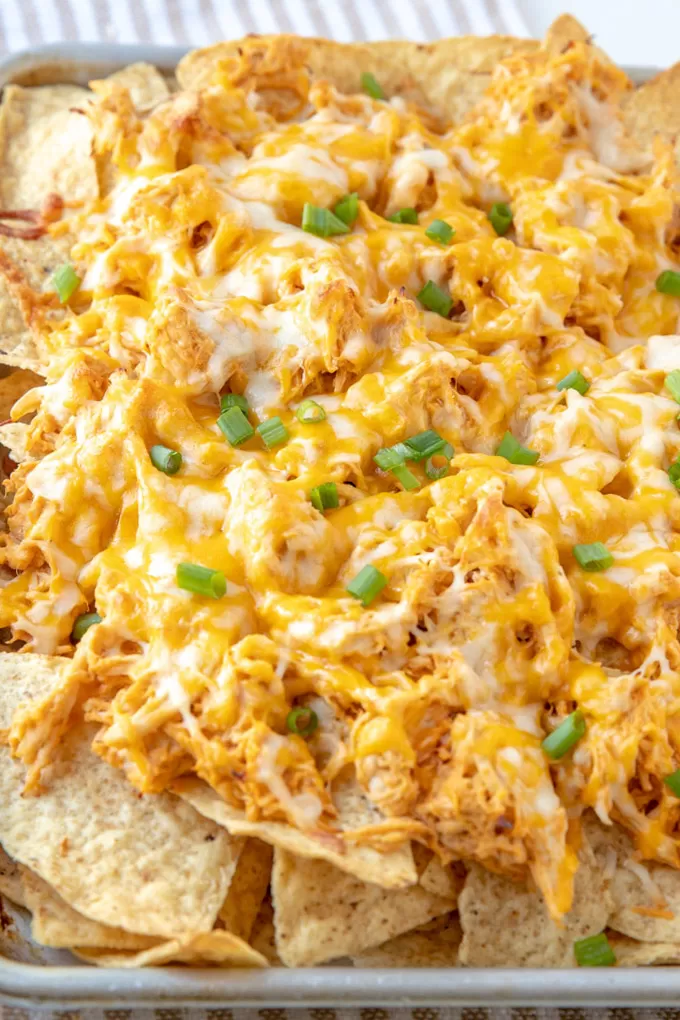 Crunchy tortilla chips are loaded with tender chicken, drenched in a spicy buffalo ranch sauce and smothered in cheese for the ultimate game day snack. These Buffalo Chicken Nachos are easy to whip up and are sure to please your hungry crowd!
Get the recipe here:  YellowBlissRoad
11.  Baked Skillet Nachos
The ultimate nachos recipe – Delicious layers of chips, gooey cheese and toppings that are baked to perfection. these baked nachos take less than 20 minutes and are the Perfect appetizer, lunch or dinner!  This simple skillet nachos recipe is going to be a big hit as a taco Tuesday alternative.
Get the recipe here:  IHeartNaptime
12.  Baked Potato Nachos
So we had loaded potato skins as leftovers and some of the staff here wanted to just reheat them in the oven.  Some other staff members stepped up and said lets do something different for once – and found this recipe for baked potato nachos.   Try out this recipe as an alternative to the typical tortilla chips and replace it with potatoes.
Get the recipe here:   FriedDandelions
13.  Loaded Pizza Nachos with Creamy Garlic White Sauce
Let's combine nachos, pizza, and drizzle some creamy white garlic sauce over it.  Can there be anything better than that?  Woops – you can't decide on dinner tonight, do you want pizza or nachos?!  No more guessing – make this recipe today!
Get the recipe here:  HostTheToast
14.  Rainbow Fish Taco Nachos
Try this recipe if you want to cut out the tortilla chips and instead use fresh fish and fruits.   It's a little bit different than a typical loaded nacho recipe, but that's why we put it on this list.   If you're a fan of fish tacos – this may be the perfect recipe for you to try!
Get the recipe here:  GimmeSomeOven
15.  Jalapeno Shrimp Nachos
These super cheesy, spicy, delicious shrimp nachos will make a great snack for everyone. These nachos are loaded with two types of cheese, fresh jalapeno peppers, and juicy shrimp.
Get the recipe here:  WillCookforSmiles