These loaded nacho recipes are going to be a huge hit for your next party or tailgate event. Choose from the 15 that we've found that include chicken, pork, fish, and more!
These loaded nacho recipes are going to be a huge hit for your family or the next party you're going to attend.  You've had them at the bar or your favorite restaurant, and you've always wanted a delicious recipe to make yourself.
So because of that, there's nothing better than loaded nachos and the multiple ways to create them.   It doesn't matter if you feel like chicken, pork, shrimp, or maybe something else – they are going to be delicious no matter what.
Check out these 15 over the top loaded nacho recipes and find the one that you like the best!
1.  Ultimate Nachos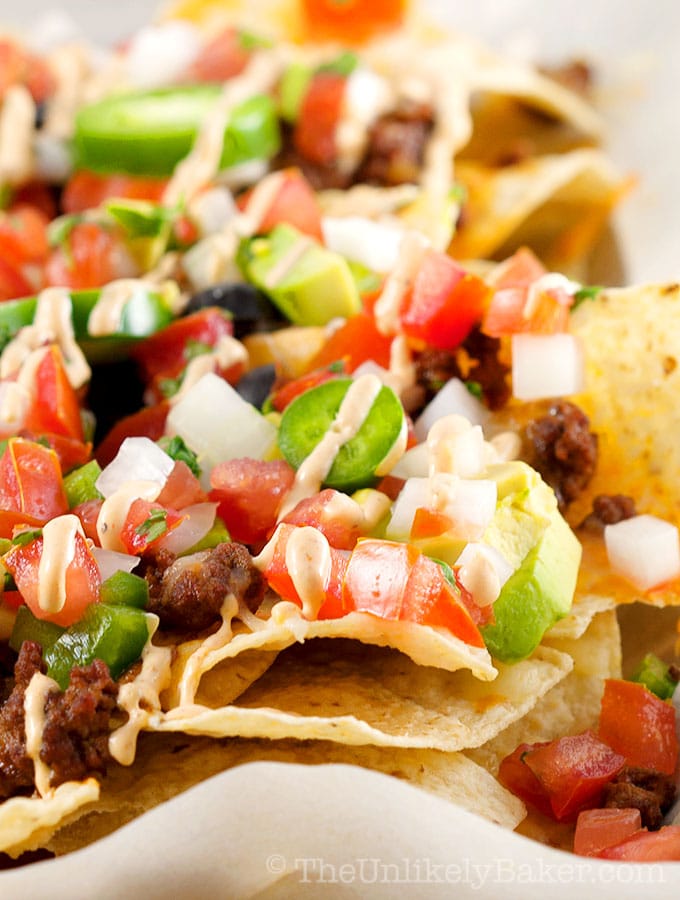 These nachos are called ultimate for a reason.  Take the taco flavored ground beef and served with fresh pico de gallo.  The chipotle cream drizzled over the top really completes the whole thing!
Get the recipe here:  TheUnlikelyBaker
2.  Nachos Deluxe
You can make these nachos in under 20 minutes.  This nachos deluxe recipe can be eaten for lunch or dinner.  This is a great game day snack or maybe even eat these when you're watching a movie at home!
Get the recipe here: AnnsEntitledLife
3.  Loaded Steak Nachos
Take your typical nacho meal to the next level.  These cheesy nachos are topped with marinated steaks, refried beans, guacamole, and pico de gallo.  This is a great dish to make for your Super Bowl party!
Get the recipe here:  TheMissingLokness
4.  Skillet Steak Fajita Nachos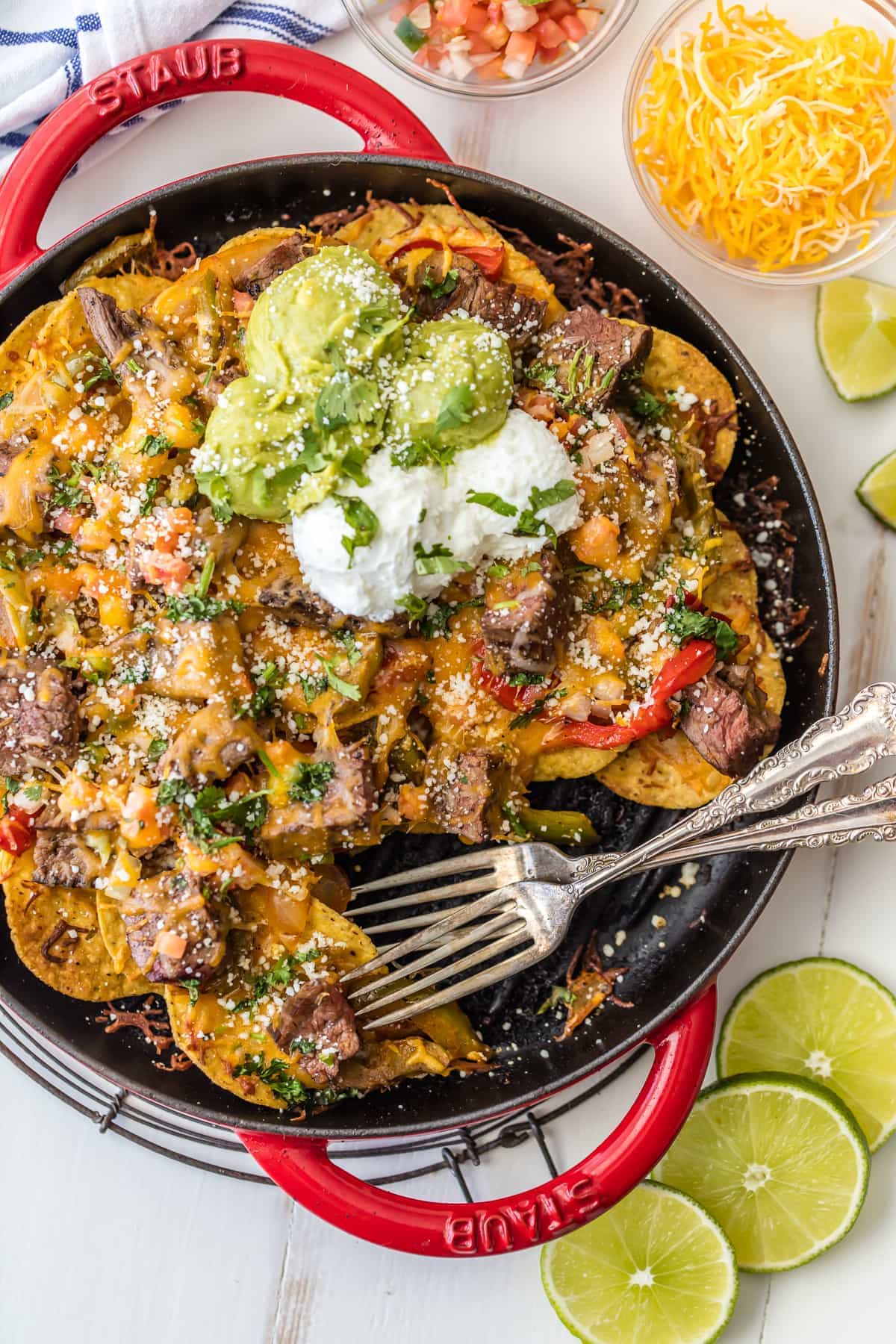 Enjoy these skillet steak fajita nachos at your next tailgating or Super Bowl party.  These nachos are loaded up with delicious steak, peppers, onions, and cheese.  You'll be calling these the best nachos you've ever had!
Get the recipe here:  TheCookieRookie
5.  Pulled Pork Nachos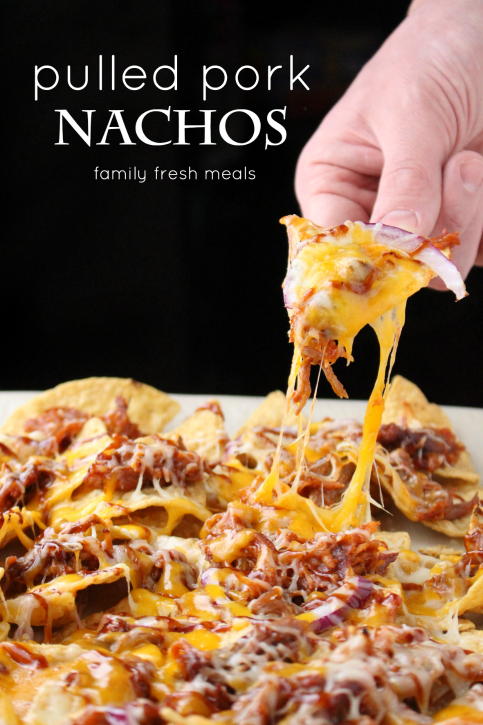 Using some pre-made pulled pork, you can have thee nachos ready in under 10 minutes.  These pulled pork nachos are a perfect option for your next football or sports party if you're looking for an idea!
Get the recipe here:  FamilyFreshMeals
6.  Tipsy Campfire Nachos
If you're going camping this weekend, these tipsy campfire nachos are a great alternative to eating just s'mores.  Even though s'mores are fun and delicious, why not relax around the campfire eating these nachos instead!
Get the recipe here:  PeppersandPennies
7.  Greek Nachos
What makes these Greek nachos so great?  It's the spiced lamb, feta tzatziki sauce, and the fresh veggies and olives thrown on top.  Instead of using tortilla chips, try this recipe which uses pita chips instead.
Get the recipe here:  MarlaMeridith
8.  Loaded Mexican Nachos with Chicken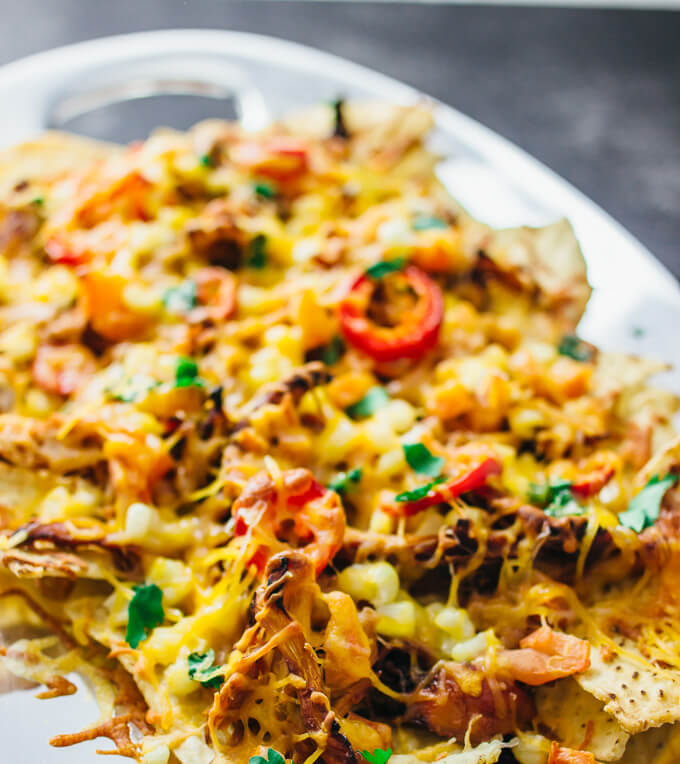 You'll really enjoy these loaded Mexican nachos.  They're served with shredded chicken, diced tomatoes, corn, jalapeno, and a ton of shredded cheese.  One of the most perfect recipes for baked nachos that we've found!
Get the recipe here:  SavoryTooth
9.  BBQ Chicken Sweet Potato Nachos
Looking for a hassle free appetizer to serve at your game day party?  These BBQ chicken and sweet potato nachos are it!   The sweet potatoes are perfectly roasted and loaded up with juicy BBQ chicken and covered in a melted layer of cheese!
Get the recipe here:  ByteSizedNutrition
10.  Buffalo Chicken Nachos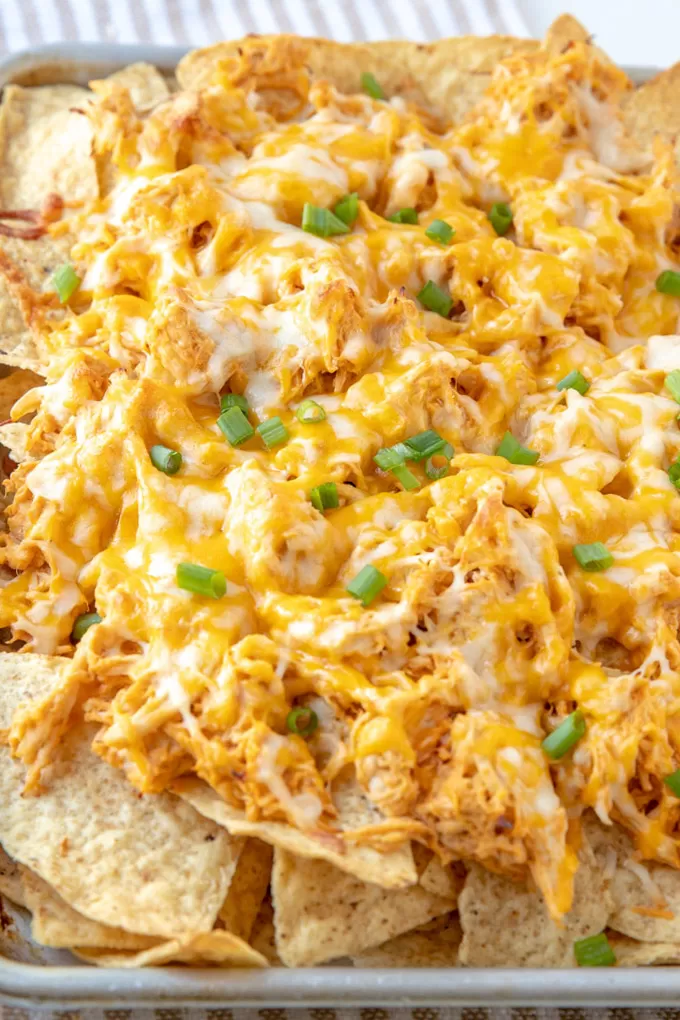 The crunchy tortilla chips are covered with tender chicken and the spicy buffalo ranch sauce makes this a delicious tasting game day snack.  These Buffalo chicken nachos are super simple to make and served to your guests!
Get the recipe here:  YellowBlissRoad
11.  Baked Skillet Nachos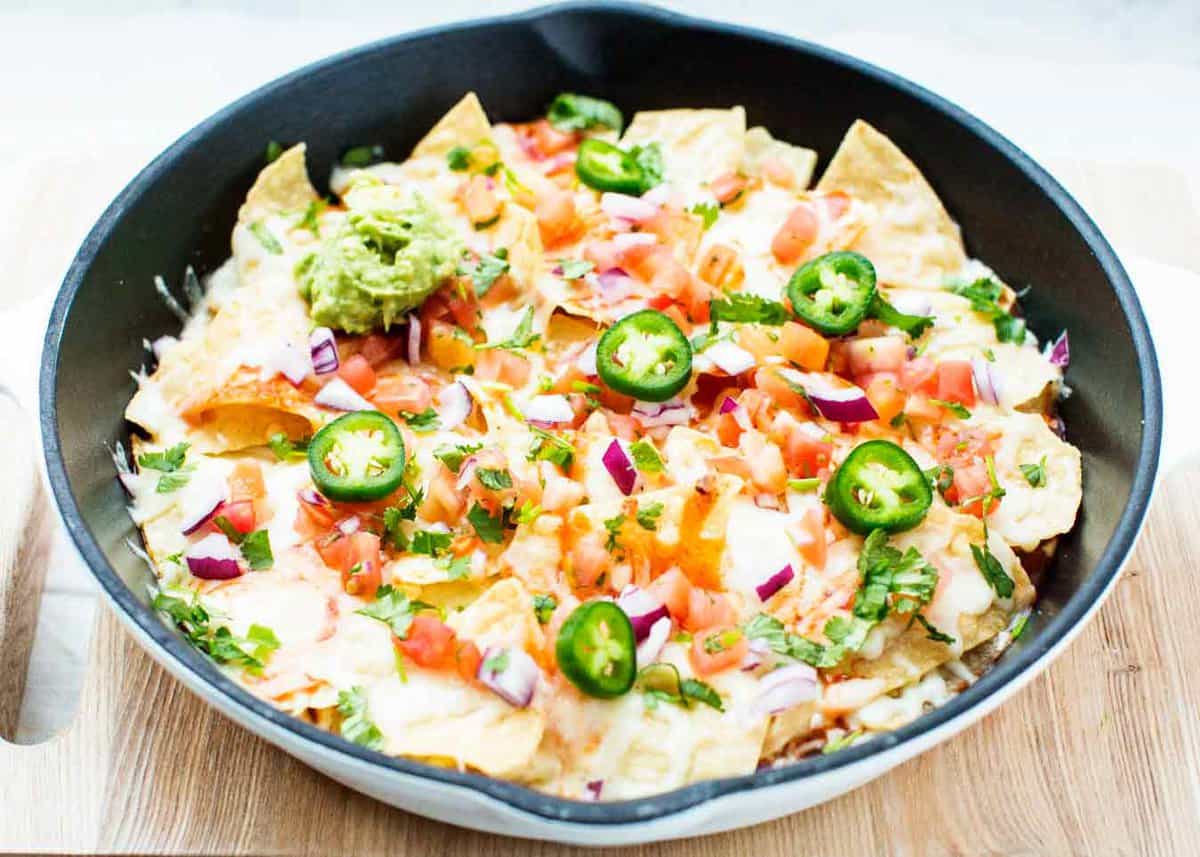 These nachos come together in less than 20 minutes using a skillet and your stove top.  The cheese and chips are baked to absolute perfection.  Nothing could be easier to make!
Get the recipe here:  IHeartNaptime
12.  Baked Potato Nachos
If you're looking for an alternative to using tortilla chips with your nachos, check out this recipe.  The loaded potato skins really add a different texture.  You will want to give this recipe a try!
Get the recipe here:   FriedDandelions
13.  Loaded Pizza Nachos with Creamy Garlic White Sauce
Combine nachos and pizza and you'll have this recipe.  The creamy white garlic sauce really ties everything together.  Every bite is going to taste absolutely insane!
Get the recipe here:  HostTheToast
14.  Rainbow Fish Taco Nachos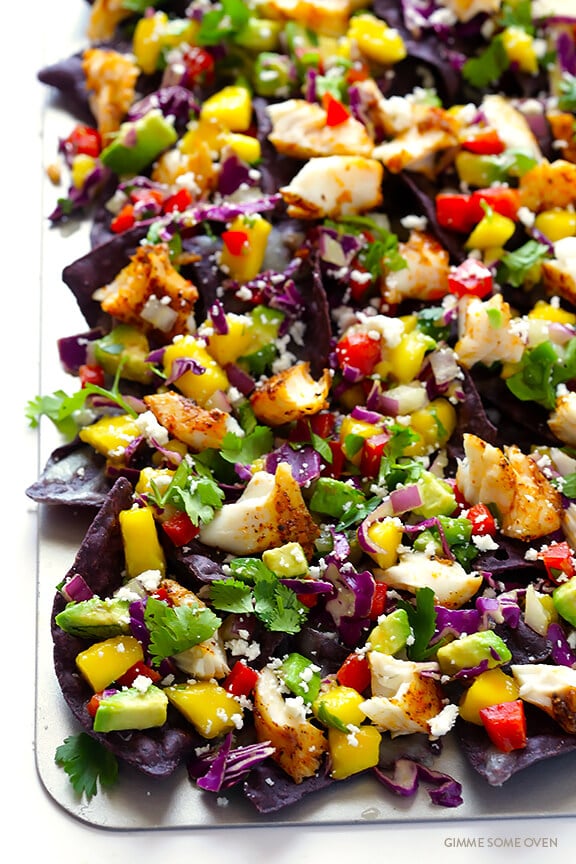 You don't always get fish on your nachos but this recipe may change your idea.  Use some fresh fish and fruits instead of the tortilla chips.  If you like fish tacos – you are going to like these!
Get the recipe here:  GimmeSomeOven
15.  Jalapeno Shrimp Nachos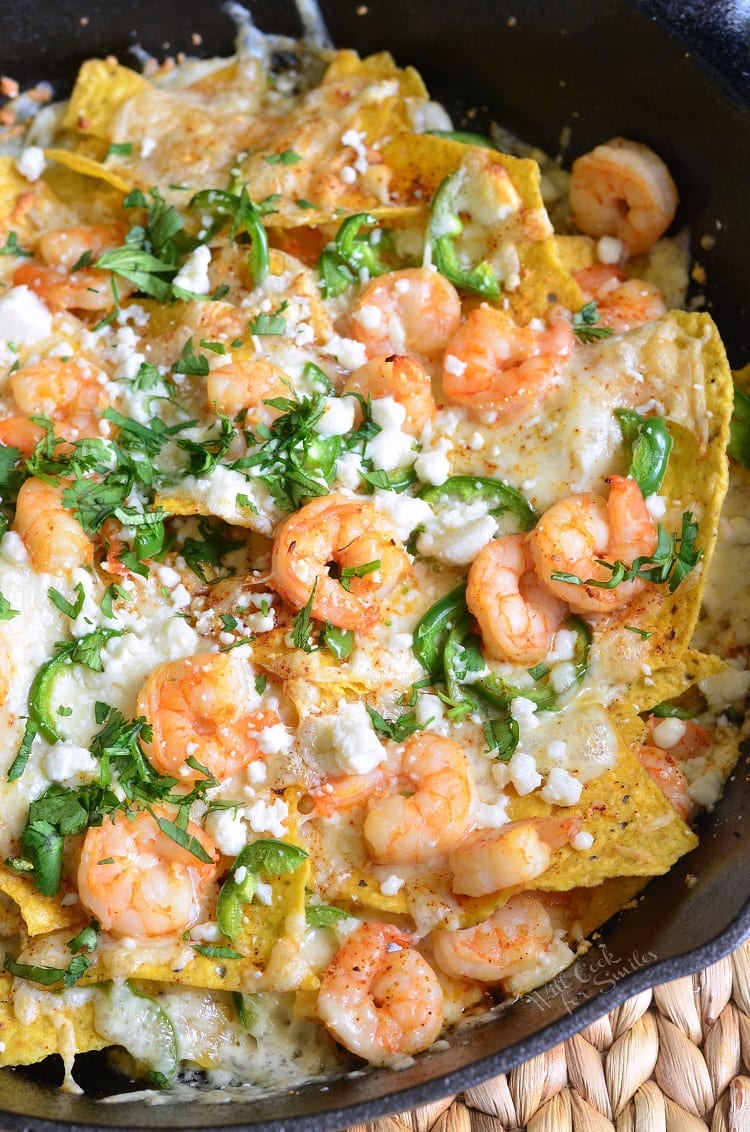 Delicious shrimp nachos that are covered with cheese and jalapenos.  It's not a complex recipe by any means, but that doesn't mean it lacks in flavor.  Try this super cheesy shrimp nacho recipe today!
Get the recipe here:  WillCookforSmiles