These 17 incredibly unique burger recipes will be a huge hit when it's time to make a creative burger!
Burgers…we all love them.   But after a while you may run out of ideas for the simple burger or cheeseburger.  I mean, how many times can you put cheese and bacon on a burger to make it different.
That's where these burger recipes come into play.   We have found 17 incredibly unique burger recipes for you to try out.  Make them once a week and enjoy a whole summer with mouth watering burgers to share with your friends and family.  We hope you enjoy these and get the chance to try them all!
Photo courtesy of:  ChewOutLoud
1. Cowboy Burger
This cowboy burger recipe is going to be a great change up at the backyard cookouts.  The burger is topped with grilled pickles and crispy onion straws.  You'll enjoy this one!
From:  MommyEvolution
2. All American Burger (Killer Burger Sauce)
If you've been cooking burgers on the grill and you think that it's been perfected, hold on a second!  This killer burger sauce recipe is going to be the addition that you never knew you needed.
From:  OhSweetBasil
3.  Chicken Fajita Burger
This burger recipe is awesome if you're a fan of chicken fajitas.  The roasted peppers and chipotle mayo brings everything together with the best flavor profiles ever!
From:  YummyHealthyEasy
4. French Onion Soup Au Gratin Stuffed Burger
Think of this as dumping the flavors of french onion soup inside a burger.  It's packed with caramelized onions and gooey cheese drips all over it.  Every bite is going to be mouthwatering delicious and perfect!
From: CupcakesandKaleChips
5. Apple Cheddar Turkey Burger
These apple cheddar turkey burgers are perfect for those looking for a sweet and savory recipe.  The sliced apples, cheddar cheese, and maple dijon mustard all compliment each other and allow for a flavor filled turkey burger!
From: RecipeRunner
6. Coffee Rubbed Burger with Dr. Pepper BBQ Sauce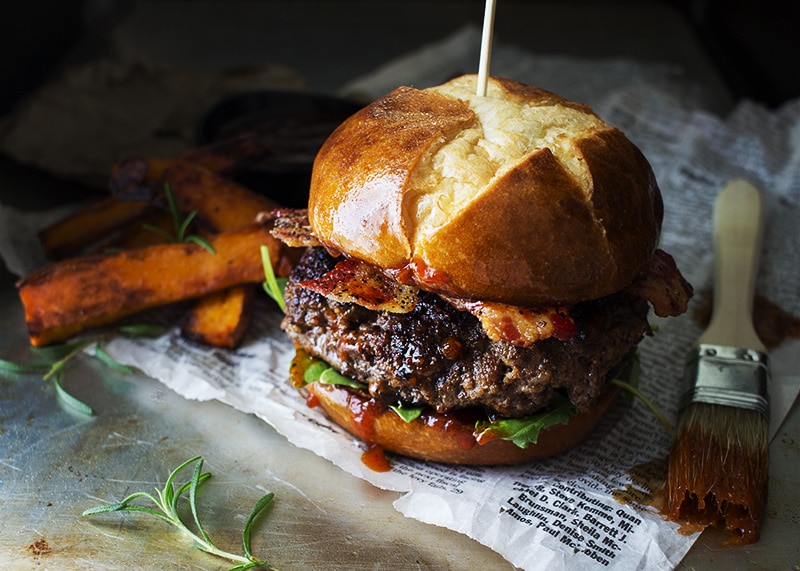 These angus beef burgers get rubbed with rich and flavorful coffee based seasoning mix.  Throw on some peppers bacon and homemade Dr Pepper BBQ sauce – this meal is complete!
From:  TheChunkyChef
7.  Teriyaki Turkey Burgers
These teriyaki turkey burgers are the next thing you need to make on the grill – we promise you that!  They're over the top with flavor due to the grilled pineapple and onions that are placed on top.
From:  RecipeRunner
8. Bacon Whiskey Sauce Burger
If you like bacon you obviously want it on your burgers as well.  Why not do it with a delicious and savory BBQ sauce as well!?  Enjoy the whiskey sauce in this recipe because it's just sweet and savory goodness!
From:  DadWithaPan
9. Paleo Bacon Garlic Avocado Burger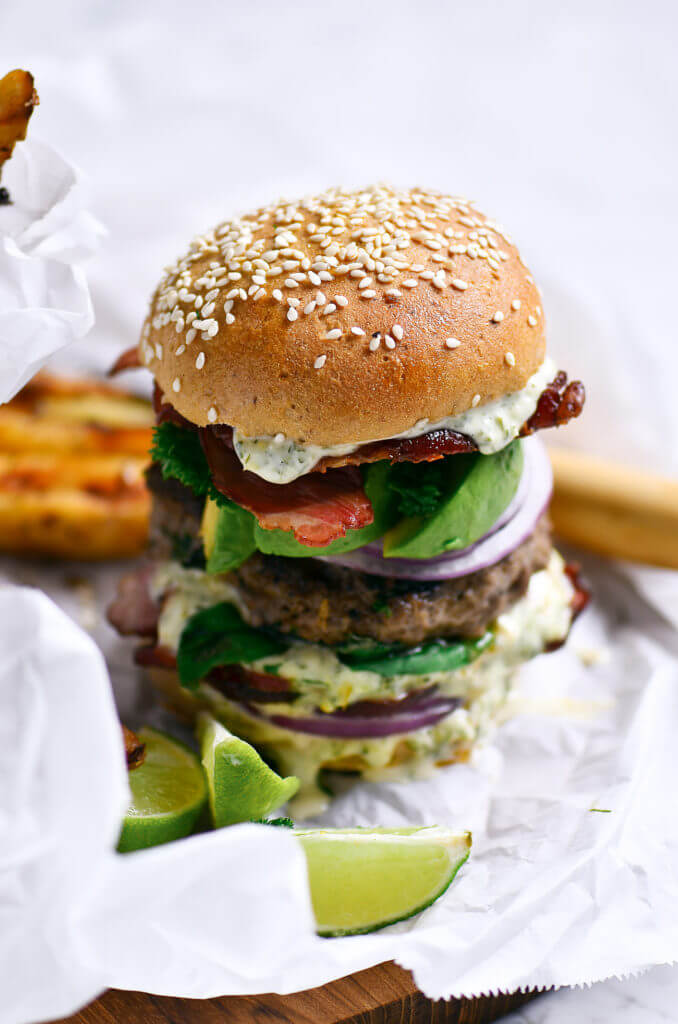 This bacon avocado burger is legit paleo goodness.  The fresh basil, garlic, and creamy white sauce that tops this burger will bring everything together.  Don't forget the fluffy and soft grain free buns!
From:  PaleoGlutenFree
10.  Copy Cat McDonald's Big Mac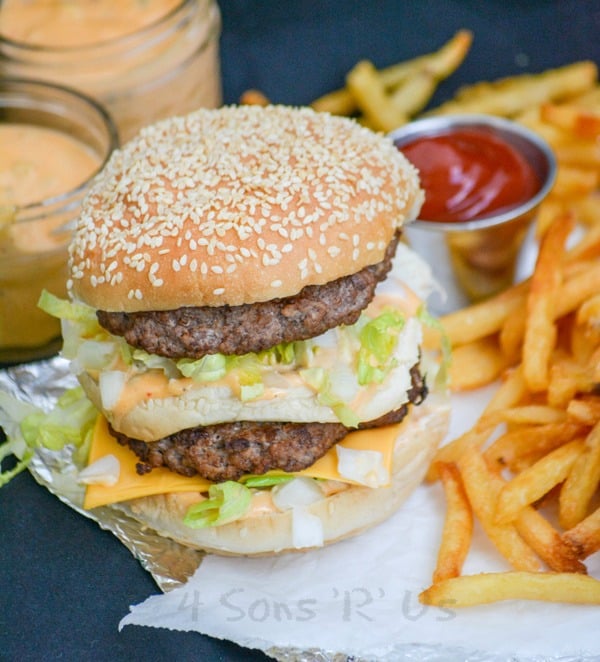 The Big Mac is by far one of the most, if not THE MOST, popular fast food burger ever invented.  Now you can make your own Big Mac with this copycat recipe.  It even includes how to make the famous Big Mac sauce!
From:  4SonRUs
11. Taco Burger
This taco burger is going to taste like you're eating a taco.  That may seem obvious by the name, but when you actually get to taste it…you'll understand all the hype!
From:  BurgerArtist
12. Mexican Chorizo Garlic Shrimp Burgers
Enjoy this Mexican chorizo and garlic shrimp burger for dinner tonight.  If you're in the mood for some spicy food – give this burger a shot!
From:  LadyandPups
13. BBQ Frito Chili Pie Burger
This BBQ frito chili pie burger is one of the best burgers we've found.  It may seem a little over the top…but it's worth it.  Leave us a comment and let us know what your thoughts on it were!
From:  MissInTheKitchen
14. Jamaican Burger With Spicy Pineapple Sauce
Your mind is going to be blown when you sink your teeth into this Jamaican burger.  The Jamaican seasoned jerk burger and spicy pineapple sauce really adds such a good texture!
From:  EatingRichly
15. Asian Burger with Sriracha Mayo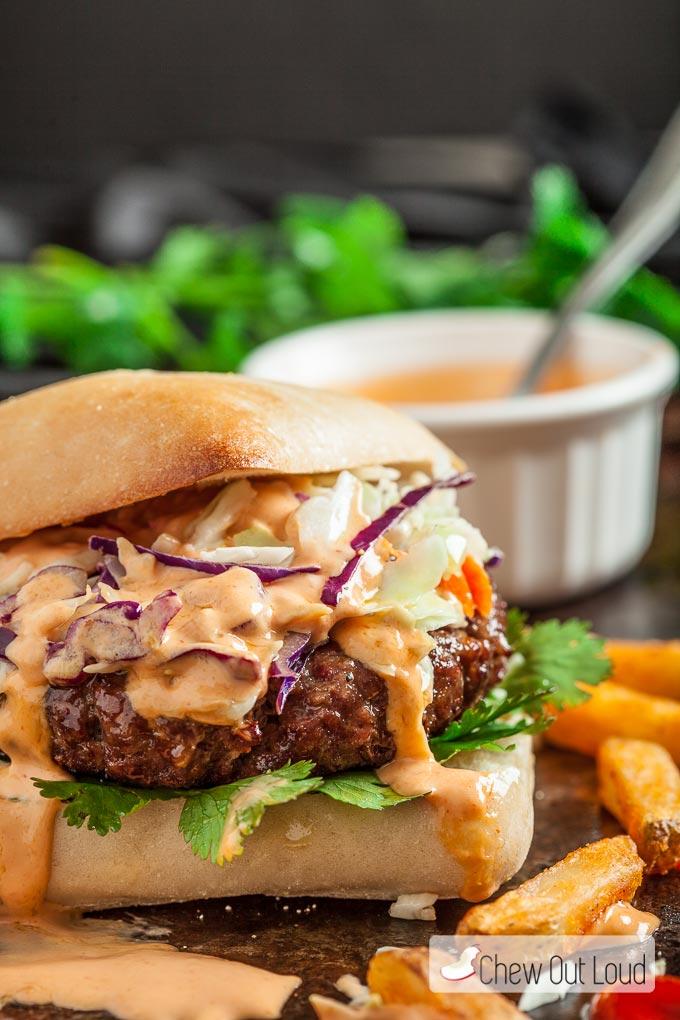 These Asian burgers have a lot of good things going for it.  This is going to really elevate your burger making skills.  The Sriracha may is the secret sauce that's going to blow your mind!
From: ChewOutLoud
16. Guinness Burgers with Irish Cheddar and Bacon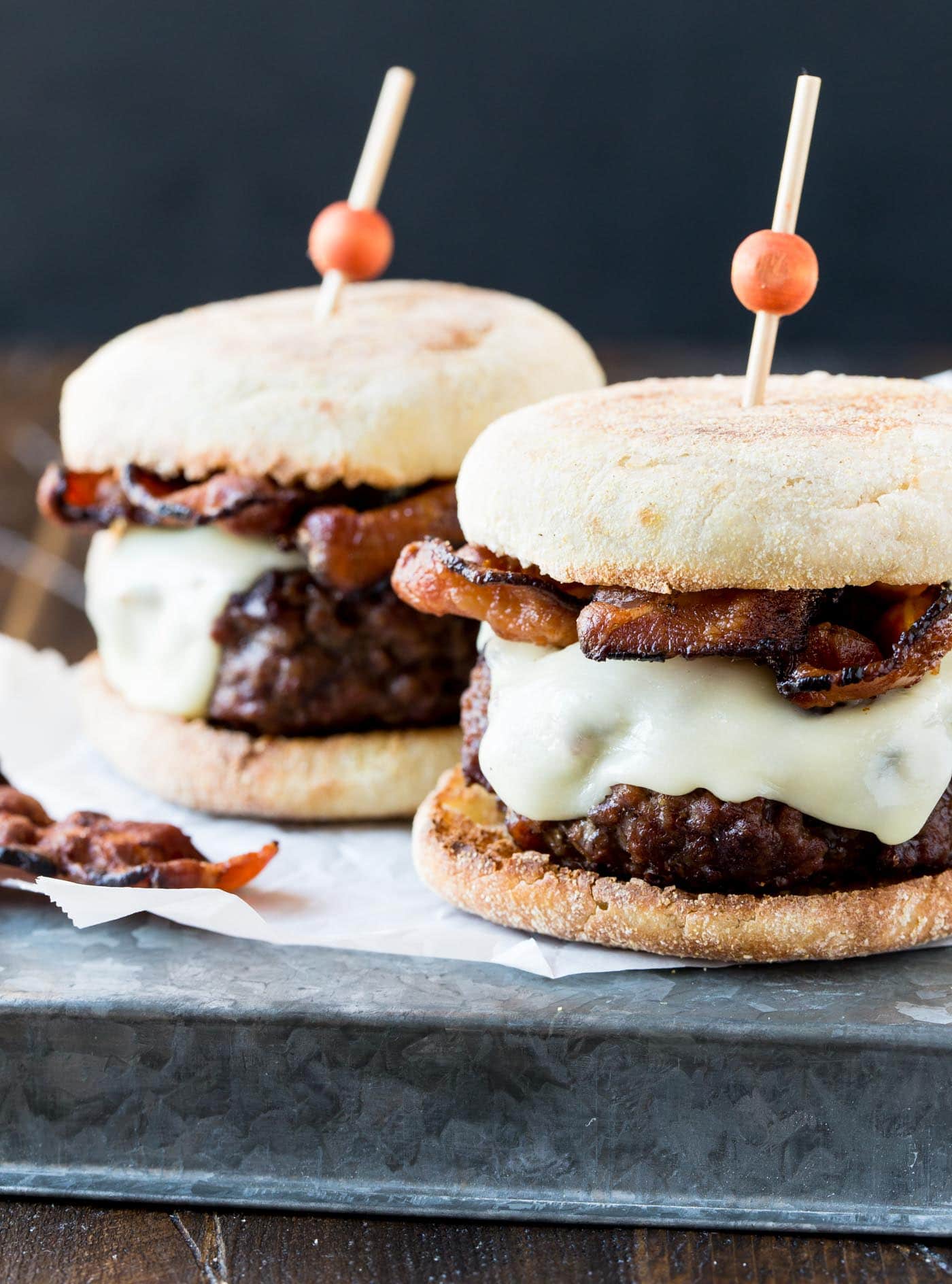 You don't need to be of Irish decent to enjoy these Guinness burgers.  Top them with Irish cheddar cheese and bacon and you'll have them served up and ready for your St Patrick's Day party.
From:  GarnishWithLemon
17. Mushroom Burger with Provolone, Caramelized Onions, and Aioli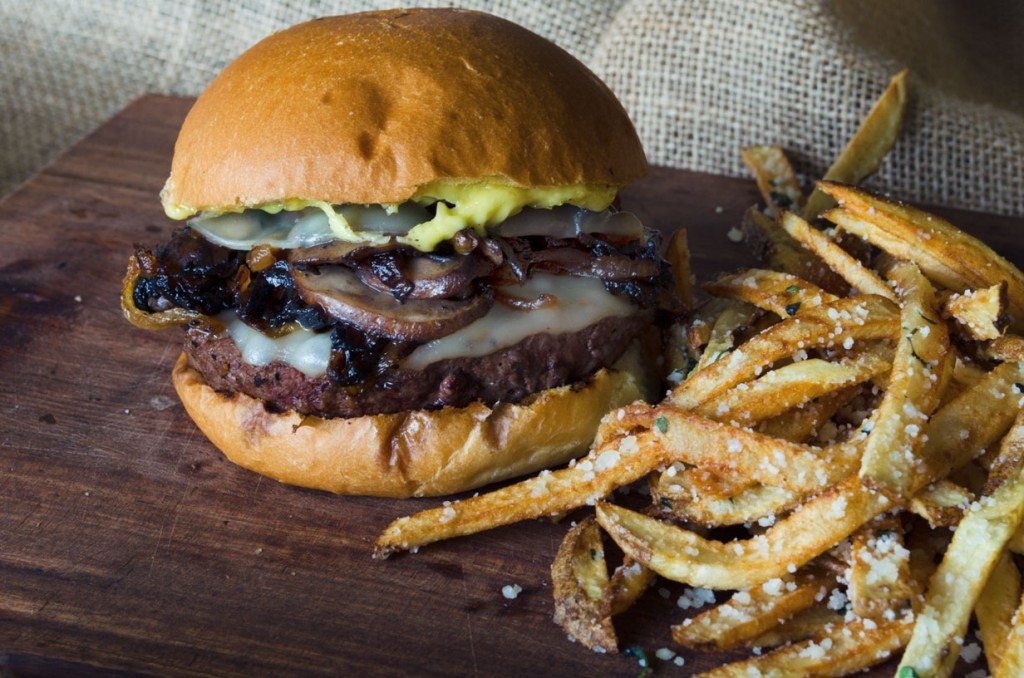 The mushroom burger is a staple for burger recipes.  This one is no different with the caramelized onions and mushrooms.  They get sandwiched between two layers of cheese and a delicious spread of aioli!
From:  GoGoGoGourmet