If you've been looking for some macaroni and cheese recipes then have your pick of these 25 that we've found for you. All are simple, quick, and delicious – so try them today!
Macaroni and cheese has got to be one of the best comfort foods known to man.  There has got to be hundreds of different macaroni and cheese recipes out there that you can make.
The creamy goodness of the melted cheese and the tender macaroni noodles are always a big hit when you want a delicious dinner.  But what if you could mix it up a little bit for the next time you are making some mac and cheese.
Think about it…buffalo mac and cheese, cajun shrimp and crab mac and cheese, spinach artichoke mac and cheese, or maybe you want it to just be super quick and easy by making it in an instant pot.
We've gone ahead and got 25 macaroni and cheese recipes that are perfect for you to try the next time you make this delicious comfort food meal.  Give them a look and find the one you want to make tonight for dinner!
Cover photo courtesy of:  SimplyHappyFoodie
1.  Ultimate Three Cheese Gruyere Mac and Cheese

Make a sophisticated mac and cheese dish that still tastes great.  The sharp white cheddar, grated gruyere, and dry jack combine for the ultimate macaroni and cheese.  Impress your friends and family!
From:  ThroughHerLookingGlass
2. Instant Pot Loaded Mac & Cheese

This loaded mac and cheese recipe gets made in the Instant Pot.  That means it cooks super quick and forces all the flavors together.  That means that the crispy bacon bits, crunchy scallions, and creamy cheddar cheese all cover the elbow macaroni perfectly.
From:  PressureCookRecipes
3.  Cauliflower Mac and Cheese
If you're trying to eat a little bit healthier, try this recipe.  It's the same mac and cheese recipe you're used to, but instead of macaroni, you use cauliflower.  It's a delicious and healthier alternative!
From:  ChocolateCoveredKatie
4.  Mac and Jeezy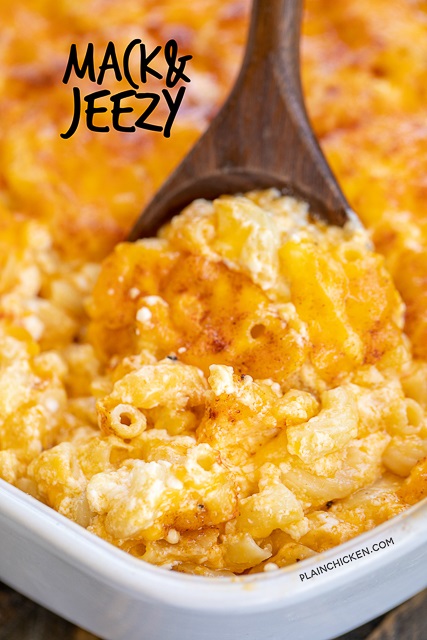 This is a seriously delicious macaroni and cheese recipe.  There's no sauces to make with this one.  Just boil the pasta, stir in the cheese, and bake it!
From: PlainChicken
5.  Cajun Shrimp & Crab Mac & Cheese
A delicious creamy Cajun shrimp and crab mac and cheese recipe.  It's a nice spin to the normal mac and cheese dish that you're used to eating.
From:  QueensLeeAppetit
6.  Instant Pot Mac and Cheese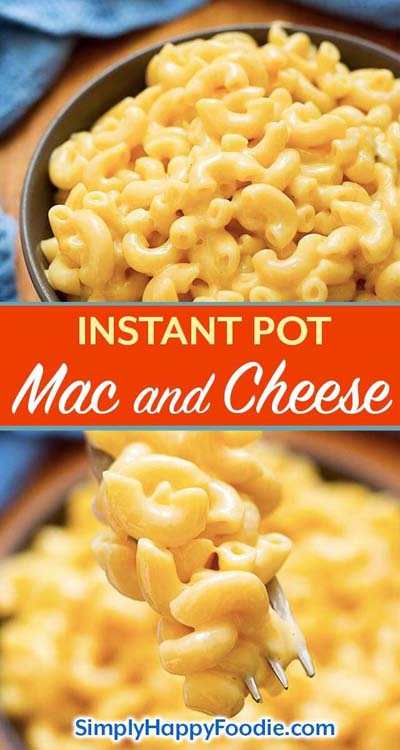 Cook this Instant Pot mac and cheese in no time.  It's simple to make, and cooks super fast.  Your family will love this!
From:  SimplyHappyFoodie
7.  The Best Homemade Mac and Cheese
This homemade mac and cheese is going to change your life.  The Panko-Parmesan topping is going to crisp up with a light and flaky crust.   Using three different cheeses add a fantastic flavor profile!
From:  MomOnTimeout
8.  The Creamiest Mac and Cheese

This is a super cheddary, rich, and easy to make mac and cheese recipe.  It is made on the stove top and comes together in under 30 minutes.  You'll make this recipe for your family over and over again!
From:  NeighborFoodBlog
9.  Perfect Southern Baked Macaroni and Cheese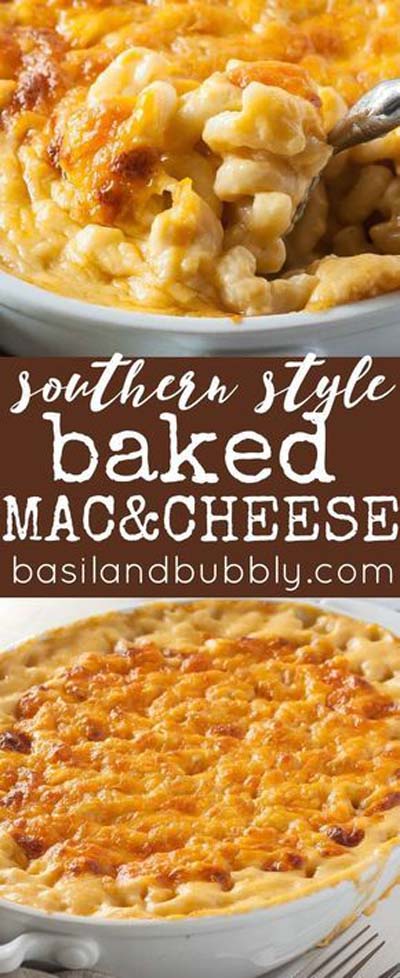 You'll enjoy this southern style baked macaroni and cheese recipe.  The creator of this recipe has been working on perfecting it for a while.  Now you get to reap the rewards!
From:  BasilandBubbly
10.  Spinach Artichoke Mac and Cheese

Combine the flavors of spinach artichoke dip and macaroni and cheese.   Your favorite dip gets combined with your favorite comfort food.  An all in one meal that will be a huge hit!
From:  WellPlated
11.  One-Pot Chili Mac & Cheese

Make chili mac and cheese in one pot for easy cooking and easy clean up.  The whole family is  going to crazy when they get a taste of this recipe.
From:  BellyFull
12.  Cauliflower "Mac" & Cheese
Even though this is called cauliflower mac and cheese, there's no macaroni in this recipe.  That makes it much healthier for you.  A great low carb and keto friendly meal option.
From:  SavoryTooth
13.  Super Creamy Macaroni and Cheese
This super creamy macaroni and cheese is made with no processed cheese.  This is made on the stove top and is a perfect holiday side dish.
From:  DinnerThenDessert
14.  Southern Macaroni and Cheese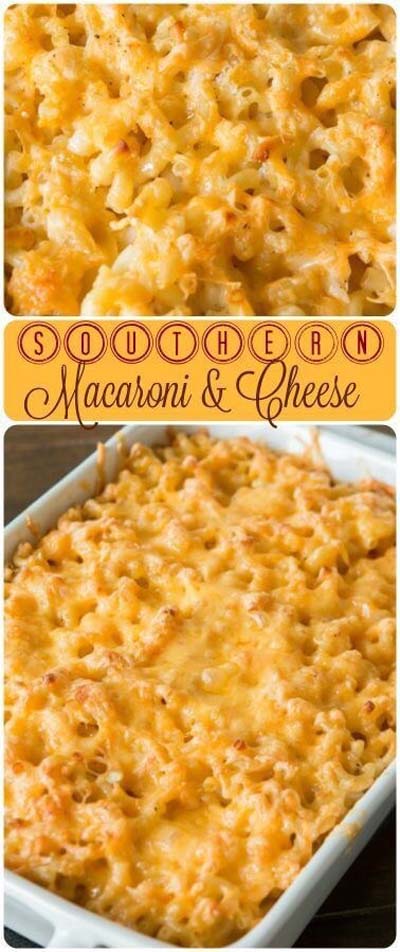 When you think of southern macaroni and cheese, you probably think of that delicious comfort food.  You'll be pleasantly surprised and happy when you make and taste this recipe!
From:  OhSweetBasil
15. Bacon Mac & Cheese Egg Rolls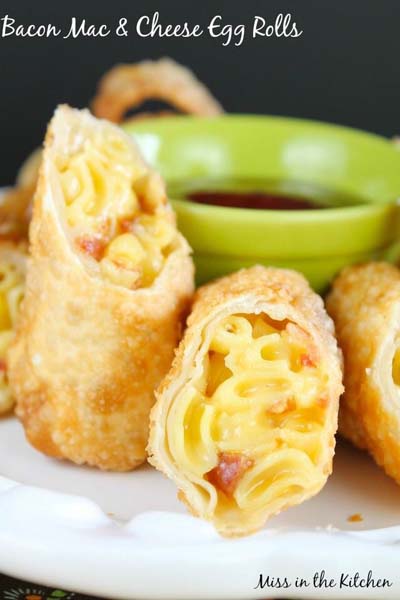 So this isn't your typical mac and cheese recipe.  The creamy mac and cheese is wrapped inside an egg roll shell with crispy bacon.   Fry it up and enjoy dipping it in some BBQ sauce.
From:  MissInTheKitchen
16. Jalapeno Popper Mac & Cheese
A switch up from the classic jalapeno popper appetizer.  This is jalapeno macaroni and cheese and we think it tastes better.  White cheddar sauce, bacon, and bread crumbs bring it all together!
From:  LifesAStrawberry
17.  Fried Mac and Cheese Balls

Everyone is going to be fighting over these bite sized treats.  These fried mac and cheese balls are crisp on the outside but creamy and cheesy inside.  A sure hit at your next party!
From:  DamnDelicious
18.  Garlic Parmesan Mac and Cheese

Take a super creamy mac and cheese recipe and flavor it up with garlic and Parmesan cheese.  Consider this as a more grown up or adult version of the macaroni and cheese you ate as a kid.
From:  KirbieCravings
19.  Buffalo Chicken Mac and Cheese

This creamy and spicy Buffalo chicken mac and cheese is sooooo good.  The panko crust is toasted perfectly and with buttery flavor.  There's even a video that the recipe creator made so you can follow along with ease.
From:  SugarsPunRun
20.  Stovetop Avocado Mac & Cheese

You'll enjoy this unique mac and cheese recipe.  It's easy to make and perfect for busy weeknights.  The avocado sauce is a nice change from the normal cheddar cheese sauce used in macaroni and cheese recipes.
From:  TwoPeasandTheirPod
21.  Creamy Garlic Parmesan Mac And Cheese

You'll absolutely love this garlic Parmesan mac and cheese.  It's in a thick and creamy garlic Parmesan cheese sauce which coats every macaroni noodle.  Topped off with Parmesan fried bread crumbs – it's just soooooo darn delicious!
From:  BlogLovin
22.  Mac 'N' Cheese Breadsticks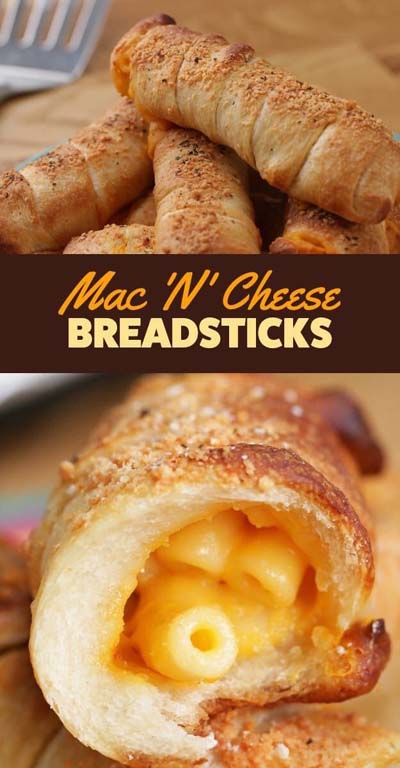 Breadsticks by themselves are tasty already.  Put some mac and cheese inside and you're taking it to the next level.  This may be the most awesome and crazy good snack food combination ever!
From:  Buzzfeed
23.  The Best Ever Truffle Mac & Cheese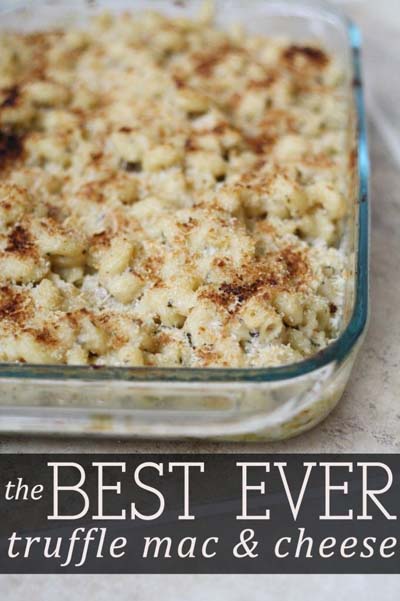 According to the person who made this recipe, it's the "best mac and cheese on the planet".  We will let you be the final judge, but it is a fantastic gourmet side dish that you can serve at any time of the year.
From:  MegoOnTheGo
24.  Pesto Mac and Cheese
This can be considered a green mac and cheese.  The rich pesto sauce takes the focus off of cheddar cheese that usually goes into macaroni and cheese.  All that means is that you end up with a fantastic and yummy dinner!
From:  EasyCheesyVegetarian
25.  Healthier Baked Mac & Cheese

This baked mac and cheese is a healthier version because of the ingredients used.  Whole wheat pasta, low fat milk, and chicken broth are used but it turns out just as creamy and cheesy!  Follow the simple how- to video for help if you need it.
From:  TheRecipeRebel