So you're looking for some fall soup recipes and need some help to find the perfect one. We've found a bunch of them and have made it easy for you to find the perfect fall soup recipe that you and your family will love!
The leaves are changing and winter is on its way.  What better time for some delicious fall soup recipes?!
When there is a chill in the air, nothing tastes better than a hearty bowl of soup that just warms your insides.  It could be a delicious chicken noodle bowl,  a tuscan soup, or even one that tastes exactly like cheeseburgers (you read that right!)…
We've gone all over the internet to find delicious fall soup recipes and have come up with a pretty good list.  So next time you feel like making a simple meal that just gets the job done, think of making some soup.
Don't just go to the grocery store and buy some simple canned soup….spend the extra time and energy to make a healthy homemade soup.  They store perfectly in the freezer or fridge and are perfect for leftovers the next day for a work place lunch.
Enjoy the recipes below and comment if you found one that you liked!
Cover photo from:  hostthetoast.com
1.  Roasted Garlic Sage Pesto Pumpkin Soup
A creative twist on the classic pumpkin soup recipe you're used to.  You actually can use the pumpkin itself as a bowl.  Impress your dinner guests with your creativity!
Get the recipe:  halfbakedharvest.com
2.  Creamy Chicken Tortilla Soup
This soup is comforting and can be made in about 30 minutes.  The creamy chicken tortilla soup is a hearty and perfect dish for a cold night.  Filled with chicken, vegetables, and loaded with delicious toppings.
Get the recipe:  cookingclassy.com
3.  Roasted Butternut Squash and Bacon Soup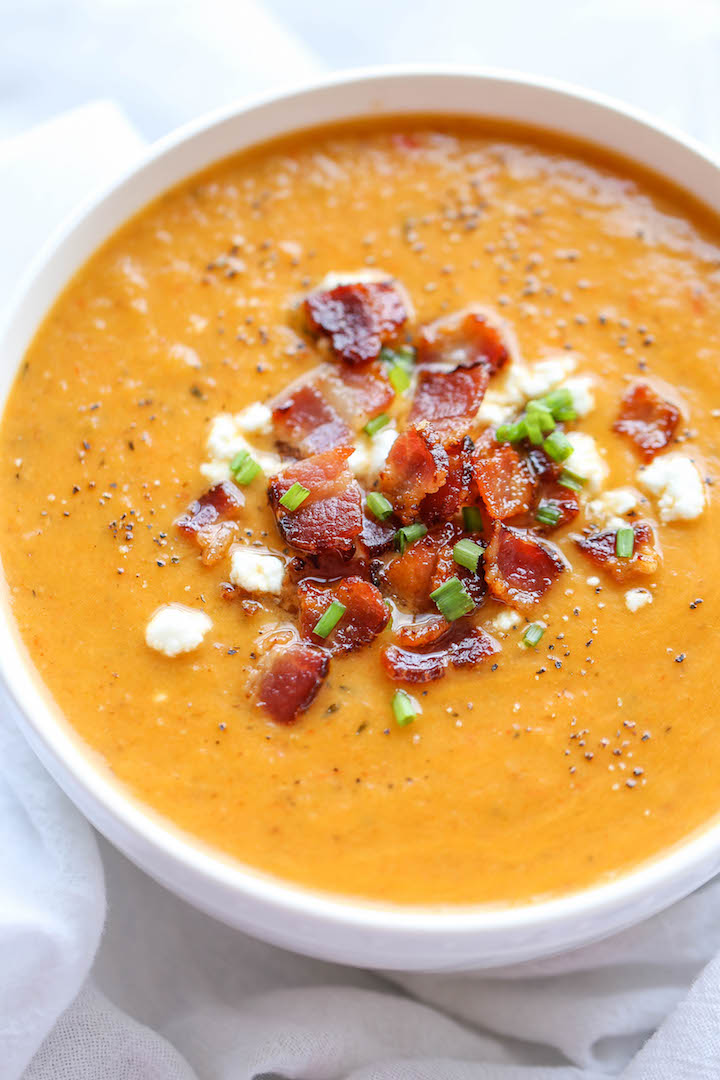 The crisp bacon bits blend perfectly into this butternut squash soup.  It's one of the best versions of this soup that we've ever tried.
Get the recipe:  damndelicious.net
4.  Creamy Parmesan Tomato and Spinach Tortellini Soup
The parmesan cheese, spinach, and cheese tortellini really bring this creamy tomato soup together.  Serve it with a nice slice of tuscan bread on a chilly day.
Get the recipe:  closetcooking.com
5.  Brie + Cheddar Apple Beer Soup
A cold fall night always calls for a warm and filling soup for dinner.  This brie and cheddar apple beer soup is no different.  The cinnamon pecan oat crumble tops it off perfectly.
Get the recipe:  halfbakedharvest.com
6.  Creamy Chicken and Wild Rice Soup
You'll start to make this creamy chicken and wild rice soup over and over again.  It's like a creamy chicken noodle soup but made with creamy wild rice in place of the noodles.  You won't be able to stop at one bowl!
Get the recipe:  cookingclassy.com
7.  Chicken Cordon Bleu Soup
If you love chicken cordon bleu then you'll definitely love this soup.  It really is incredible and packed with flavor.  The chicken, bacon, ham, and cheese all come together in a symphony of flavors that will warm you up inside!
Get the recipe:  chef-in-training.com
8.  Roasted Acorn Squash and Sweet Potato Soup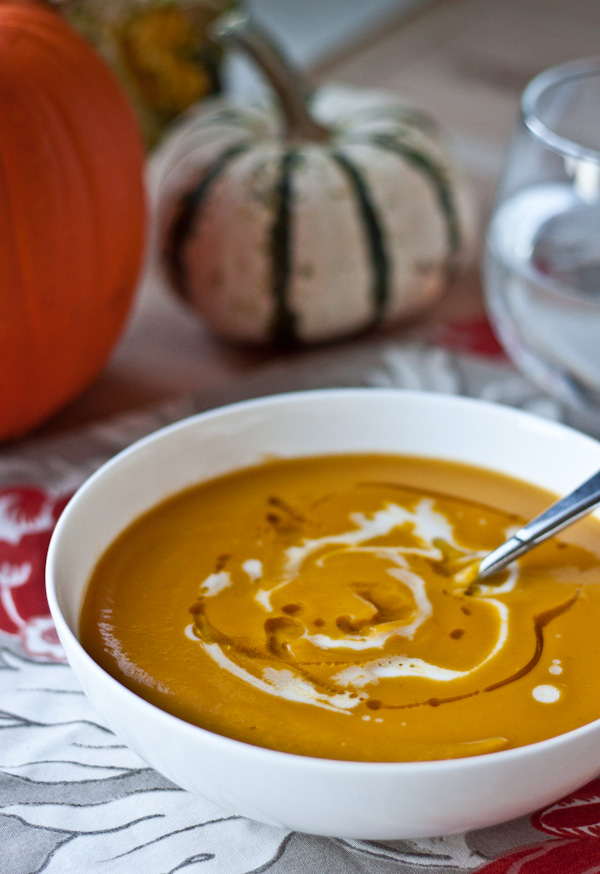 You'll love this healthy and delicious fall soup.  Acorn squash and sweet potato are roasted and blended together with other ingredients for a scrumptious meal.
Get the recipe:  abeautifulplate.com
9.  Spicy White Bean Chicken Chili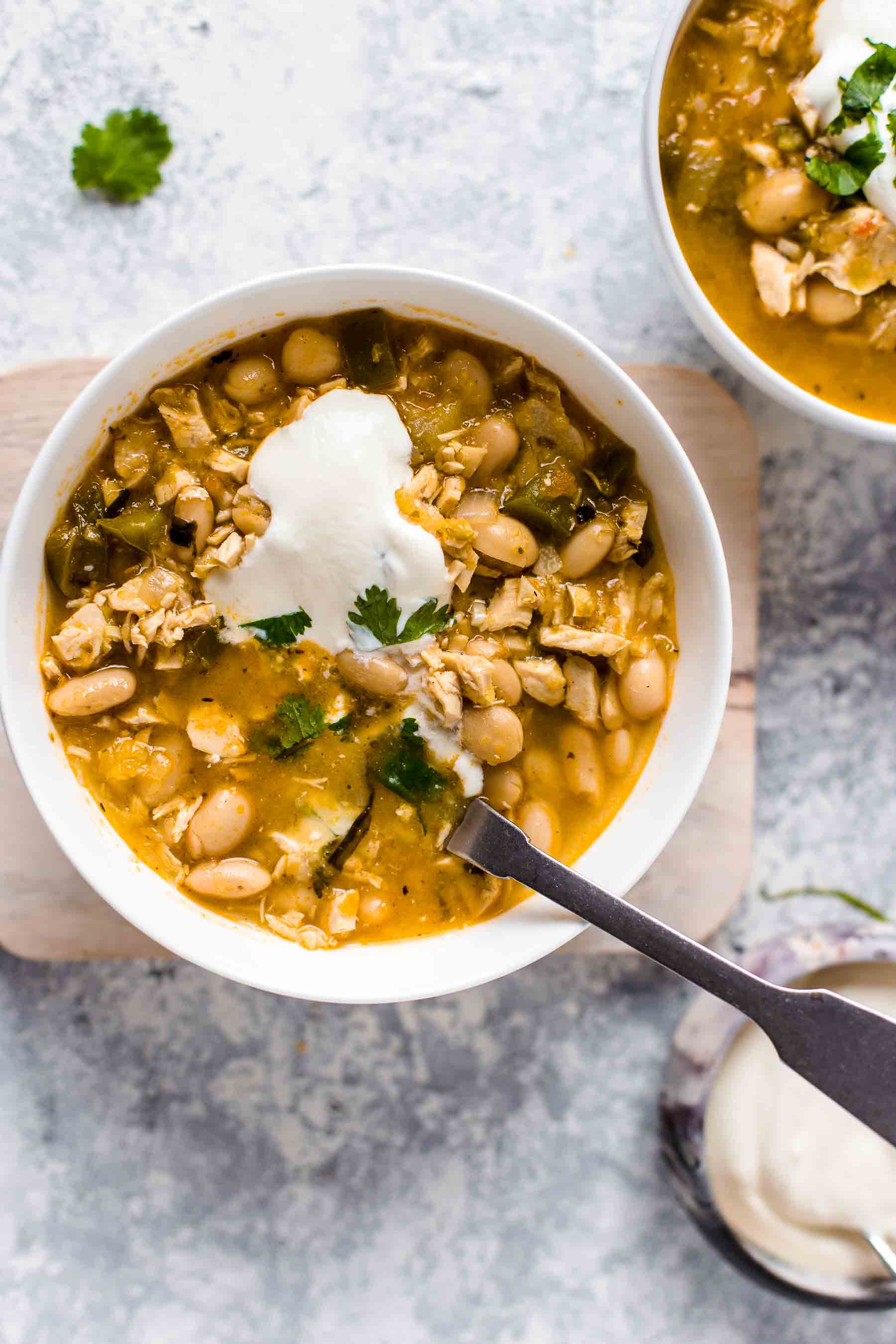 This is an easy chicken chili recipe that's perfect for the cold months of winter.  Packed with flavor, it's guaranteed to warm you up.  Make a batch of this while chicken chili!
Get the recipe:  thecookierookie.com
10.  Lemon Chicken Orzo Soup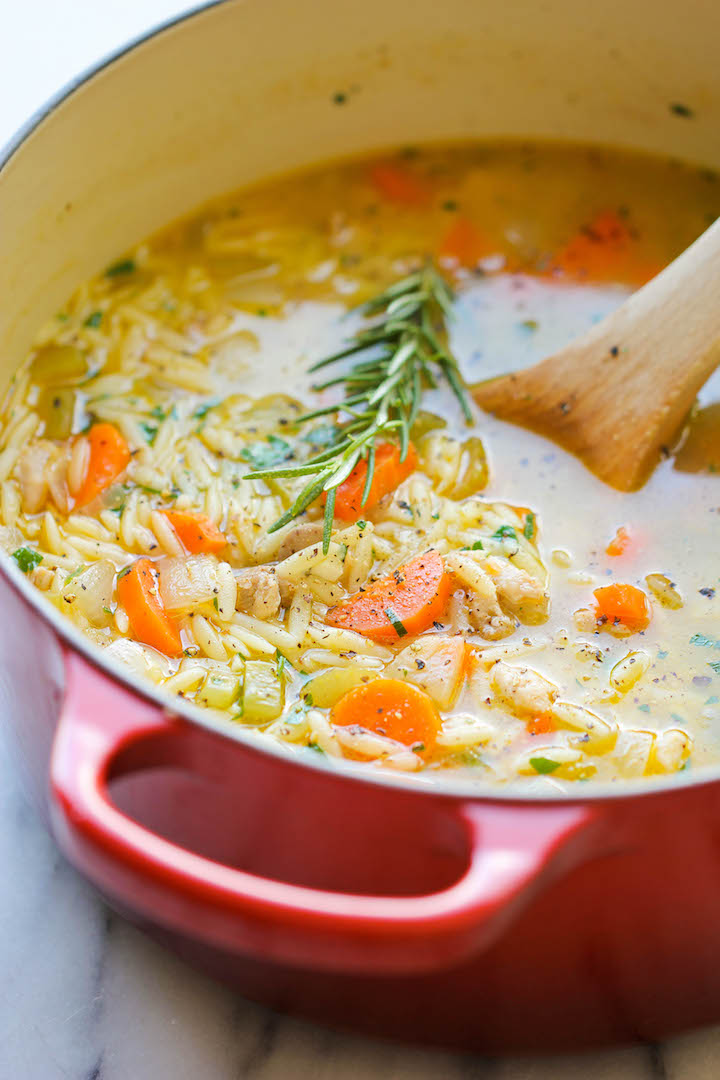 This dish is filled with hearty veggies and tender chicken in a perfect lemon broth.  It really is comfort in a bowl!
Get the recipe:  damndelicious.net
11.  Rustic Tuscan-Style Sausage, White Bean, and Kale Soup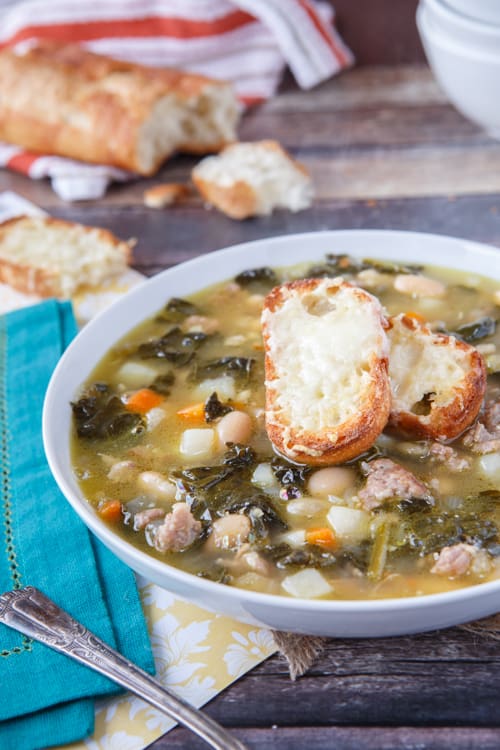 This tuscan style soup will impress your dinner guests or family.  It's hearty and filled with kale, sausage, and white beans.   Warm up with a few bowls of this!
Get the recipe:  sharedappetite.com
12.  Creamy Roasted Red Pepper and Cauliflower Soup
A nice slice of bread goes so well with this creamy roasted red pepper and cauliflower soup.  The tangy flavor of the melted goat cheese really makes your taste buds explode with flavor!
Get the recipe:  closetcooking.com
13.  Baked Potato Soup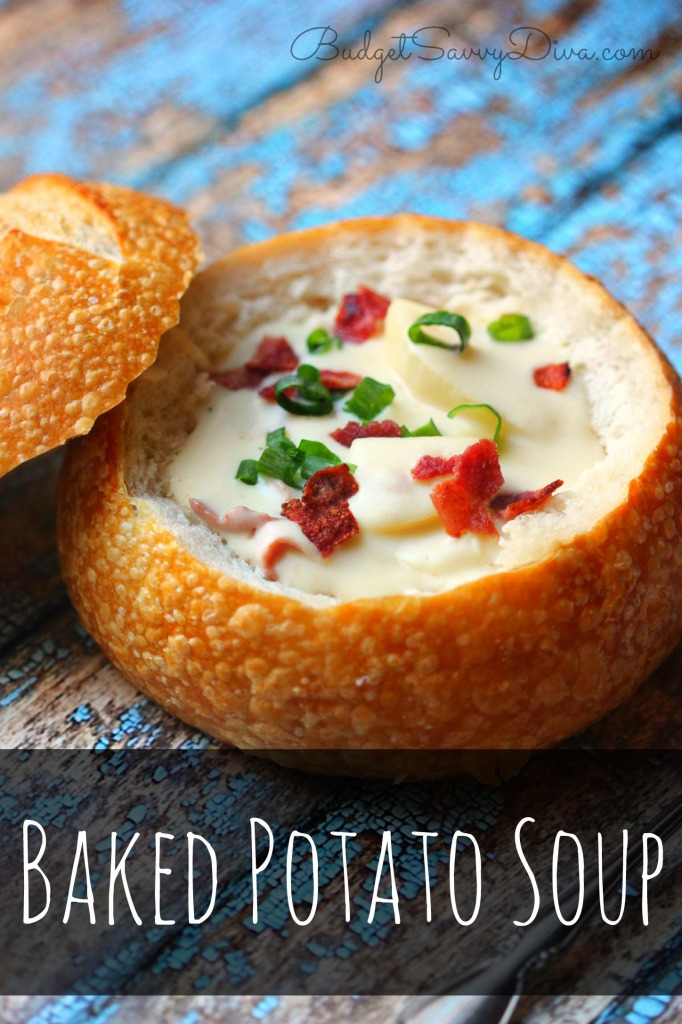 Every time we make this creamy baked potato soup, we think of fall!  The best part about it is that you can eat it all within a crusty bread bowl that soaks up all the creamy goodness.
Get the recipe: budgetsavvydiva.com
14.  Tortellini Soup with Italian Sausage and Spinach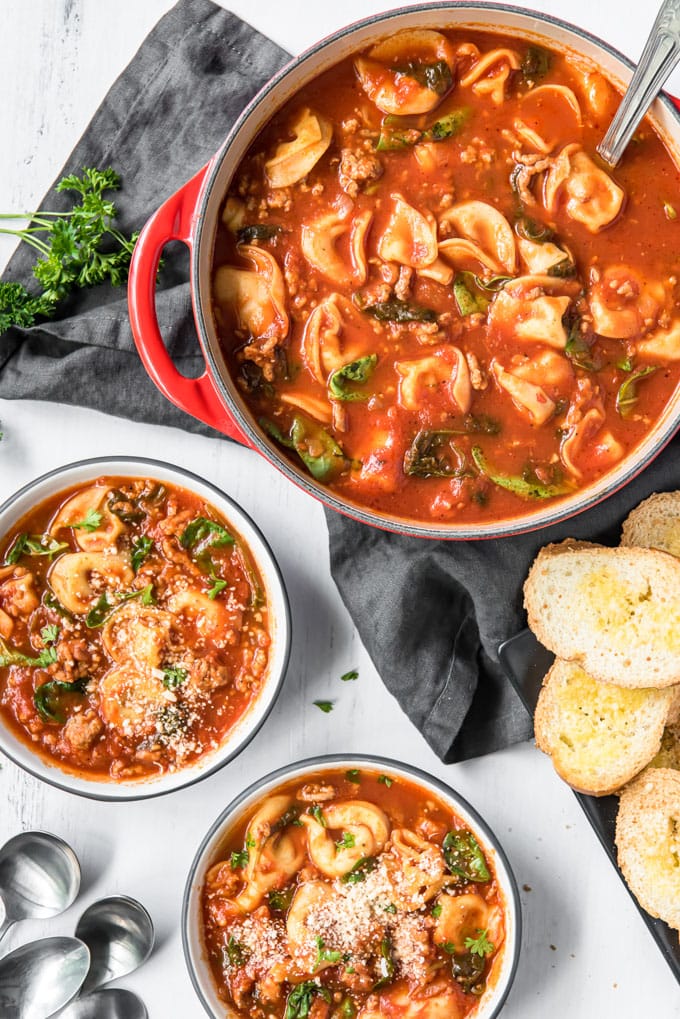 This tomato soup is taken to the next level with the Italian sausage, spinach, and tortellini that is added in.  It's perfect and easy to make because it can all be done in one pot.  Easy clean up for after!
Get the recipe:  yellowblissroad.com
15.  Cheeseburger Soup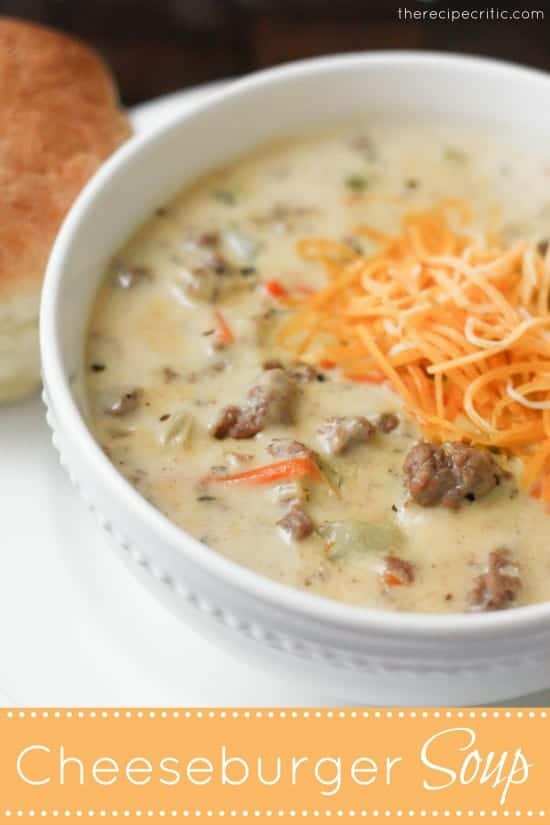 Made with fresh ingredients and topped with shredded cheddar cheese – this soup really tastes like a cheeseburger.  You won't need a bun to eat this LOL!
Get the recipe:  therecipecritic.com
16.  Chicken Pot Pie Soup
When you think of chicken pot pie, you usually don't think of soup.  This recipe is going to change your mind and with good reason!
Get the recipe: skinnytaste.com
17.  Slow Cooker French Onion Soup
This recipe for french onion soup can be made in the slow cooker.  It's packed with flavor and that's because of the caramelized onions and lots of melted cheese!
Get the recipe: lecremedelacrumb.com
18.  Homemade Bean and Bacon Soup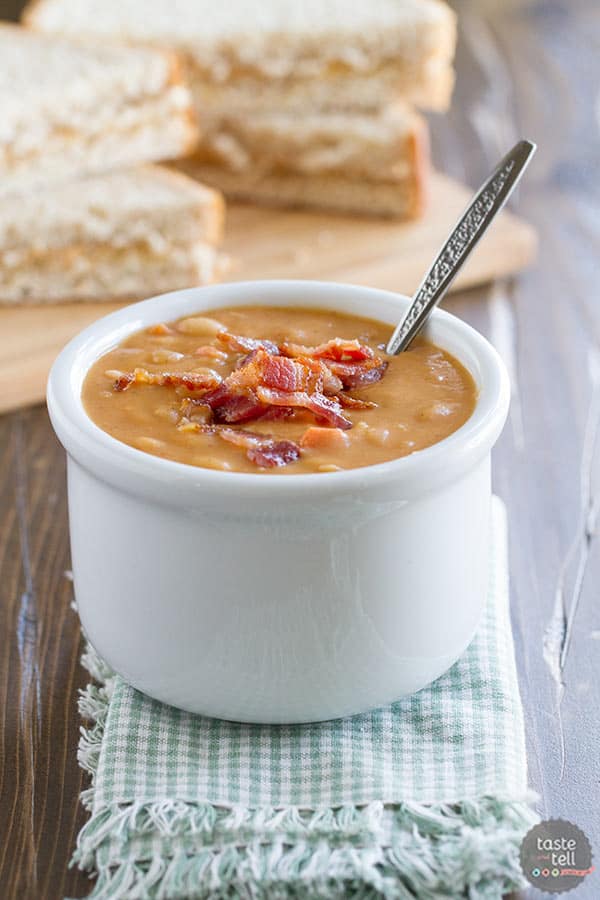 You won't need to eat canned bean and bacon soup any more.  This homemade bean and bacon soup is hearty an filled with chunks of veggies and bacon!
Get the recipe:  tasteandtellblog.com
19.  Beef Barley Soup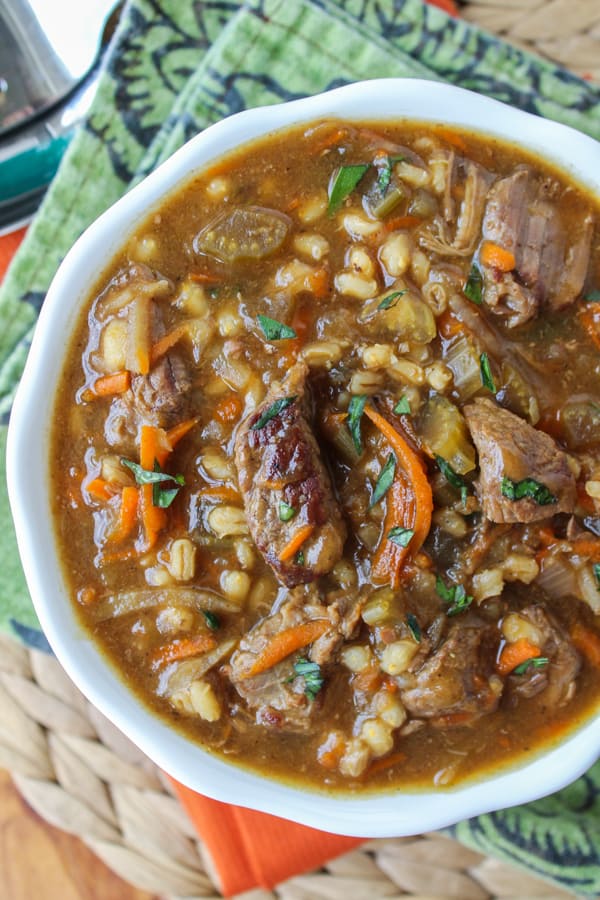 Make this beef barley soup on the stove or in the crock pot.  You can throw in the shredded carrots and potatoes to give it a delicious and thick texture.
Get the recipe:  thefoodcharlatan.com
20.  Roasted Tomato Basil Soup
Nothing says fall like homemade tomato soup.  This tomato basil soup is no different.  Enjoy the flavors of roasted tomatoes, onions and garlic for over the top deliciousness!
Get the recipe:  cookingclassy.com
21.  20-Minute Cheesy Chicken Enchilada Soup
The rich flavor of the spices and veggies bring out the best in this chicken enchilada soup.  Who would've thought that one soup could be so good?!
Get the recipe:   gimmesomeoven.com
22.  Slow Cooker Chicken Fajita Soup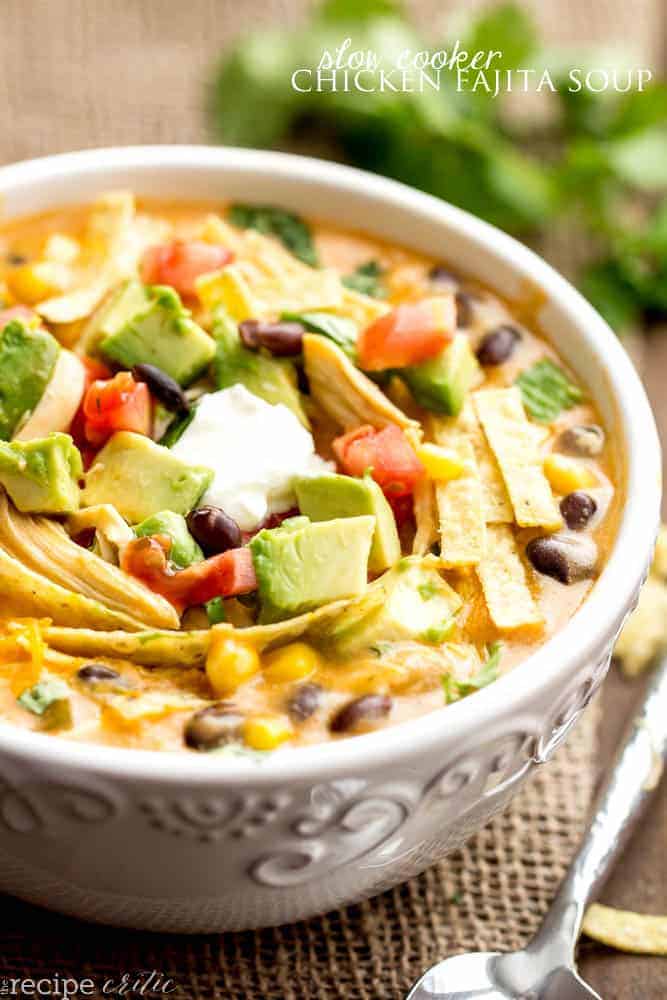 Take out the crockpot and throw all the ingredients into it.  With only five minutes of prep time, you'll have a flavor packed chicken fajita soup in no time!
Get the recipe:  therecipecritic.com
23.  Slow Cooker Broccoli Cheese Soup
Enjoy making this broccoli cheese soup in the slow cooker.  It's so easy to make on cold winter days and the crockpot makes it so much better!
Get the recipe:  cookingclassy.com
24.  Loaded Potato Soup – Creamy Cheese, Bacon and Jalapeño
This loaded potato soup is comforting and full of flavor.  Let it warm up your stomach with the bacon and potato chunks.
Get the recipe:  thewickednoodle.com
25.  Fall Vegetable Quinoa Soup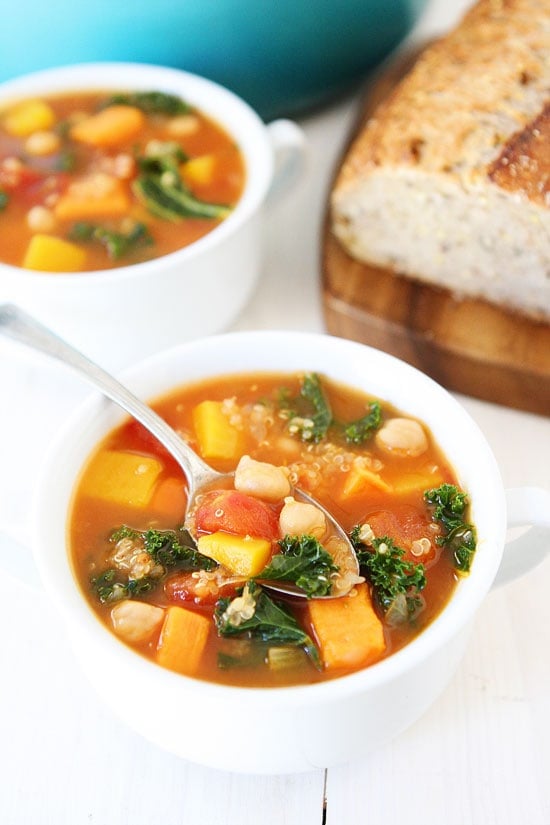 If you love vegetables in your soup then this is going to be the recipe for you!  Butternut squash, sweet potatoes, kale, carrots, celery, and tomatoes bring this beautiful soup together.  It's also healthy which is a bonus!
Get the recipe:  twopeasandtheirpod.com
26.  Creamy Carrot Cashew Ginger Soup
This carrot cashew ginger soup is a fabulous go to meal if you're short on time after work.  You'll most likely have leftovers so bring them for lunch the next day!
Get the recipe:  marlameridith.com
27.  Creamy Cauliflower Soup
This cauliflower soup is one of the best recipes we've found to use fresh cauliflower.  It's rich, creamy, an filled with veggies for a great balance of flavors.   Throw some cheddar and bacon on top and you're stomach is going to be loving you!
Get the recipe:  cookingclassy.com
28.  Creamy Vegetarian Chicken Noodle Soup
Put a yummy twist on a vegetarian classic.  This creamy vegetarian chicken noodle soup is going to make everyone who eats it asking for seconds!
Get the recipe:  domesticallyblissful.com
29.  Creamy Wild Mushroom Soup
This cream of mushroom soup is filled with wild mushrooms.  It's a cozy reminder that fall and winter meals are possibly the best meals ever!
Get the recipe:  aspicyperspective.com
30.  Asiago Bisque
Your stomach is going to thank you after it gets to taste this asiago bisque soup.  It's super flavorful and it's going to warm your belly on a chilly fall night.
Get the recipe:  chef-in-training.com
31.  Creamy Zucchini Soup
This homemade zucchini soup is made with a homemade yogurt which makes it perfectly creamy.  Serve it up with some chickpeas and pistachios and this meal is complete!
Get the recipe:  giverecipe.com
32.  Pumpkin and Black Bean Soup
You're going to think this pumpkin soup is pretty great.  If we had to compare the consistency of the soup to something, we'd say a nice creamy tomato soup.
Get the recipe:  theskinnyfork.com
33.  Italian Wedding Soup
This Italian style stew is filled with tender veggies, orzo pasta, and the most tender meatballs.  The broth is rich and flavorful which makes this soup a perfect Sunday dinner meal that you can serve with warm bread.
Get the recipe:  wholeandheavenlyoven.com
34.  Slow Cooker Tuscan White Bean Soup
You can make this Tuscan white bean soup in the crockpot with ease.  Throw all the ingredients into the slow cooker and press the 'on' button.  Can making a soup be any easier?!
Get the recipe:  afamilyfeast.com
35.  Mixed Vegetable Minestrone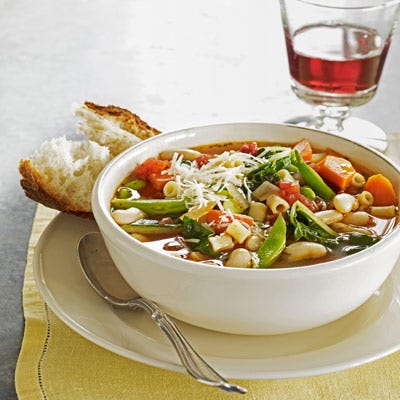 Combine all the ingredients in this soup and you'll have a hearty meal.  The vegetables, cannellini beans, and tubetti pasta come together into a one dish vegetarian meal!
Get the recipe:  delish.com