Choosing the right cutting board may seem easy, but there are differences. Let our guide help you learn which cutting board is right for you.
The cutting board is one of the most important items for you to have in your kitchen.  It gives you a nice solid work space to slice, dice, chop, and prep your food.  But most people may think that any cutting board will work – and while they may be right, each material has their pros and cons.
Some people may prefer the color coded types so they can divide them between both vegetables and raw meat.  Other people may be more for the wooden cutting boards.  This may be because they don't damage their knives, or because they want the cutting board itself personalized and engraved which is easier to do on wood.
Give this handy guide a look and see what the differences are between the cutting boards and the materials they're used with.  Hopefully this will help you make a good decision for your next cutting board purchase!
Why cutting boards are important
It may seem silly to say it, but cutting boards are important to have if you're going to take cooking serious.  Cutting directly on your counter top is equal to putting your knives through a grinder.  You need to treat your knives with care to keep them sharp, and a cutting board can help with that.
Not to mention, the cutting board provides an extra layer of protection for your counter tops.  So now you don't need to worry about scraping, scratching, or staining your granite or marble.
As we mentioned before, the boards will also keep the food your prepping contained on top.  Transferring your ingredients to a pan, pot, or whatever is just easier this way.
Wood Cutting Boards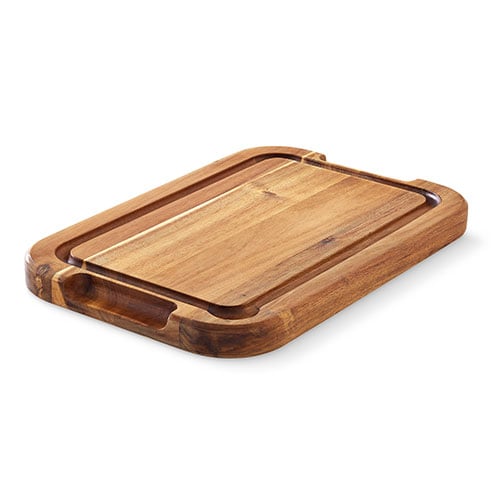 Wood cutting boards have a bunch of benefits.  They won't dull your knives unnecessarily, and they're sturdy enough to stay put while you're chopping.  Many come fitted with a channel around the edges to catch liquid run off while slicing meat, or stay bits of food.
If you end up going with a wood cutting board – do not ever put it in a dishwasher!  Hand wash them to maintain them properly and so they look their best time after time.
Plastic Cutting Boards
Plastic cutting boards will provide you with a lightweight, colorful, and dishwasher safe alternative to using wood boards.  The color coding system is nice because it helps you avoid cross contamination.  Use these if you're preparing a meal that includes raw seafood/meat, produce, etc.
Most plastic cutting boards, or ones that are made properly, are BPA-free.  This means that they won't transfer harmful chemicals to your food, and most are also antimicrobial and non porous.
Bamboo Cutting Boards
If you like wood cutting boards, bamboo may be something you also look at.  They're known for their low environmental impact, but that they're also sturdy.
Bamboo cutting boards are moisture resistant and can provide you with warp and crack proof protection.  Use the bamboo cutting boards anywhere in the kitchen with confidence!
Epicurean Cutting Boards
Epicurean cutting boards will give you the best of both worlds.  You'll get a wood finish that's also dishwasher safe.  They smartly combine wood and food safe resin in their boards, so the environmental impact won't be much at all.
A little benefit about epicurean boards is that the more you use them, the more weathered they will look.  So it's like you should use them more and more, because it'll just make them look better and better!